Snowbird Season: Ways to Update Your Arizona Home
Fabrics That Go
A snowbird is a person who migrates from the colder northern parts of North America to warmer southern locales, typically during the winter.
Arizona is an extremely popular destination for snowbirds. Northerners flee the freezing winters, to make their way to their homes in Tucson. Now is the time to assess the state of your furniture, drapery or decor- to ensure they match your current style, are in good condition, and are fully functional.  
Did you know the conditions in Arizona's climate might deteriorate fabric more rapidly than let's say any climate with any amount more of water? Sunshine is great in particular doses, however, at the intensity here in Arizona your cushions could be literally disappearing. Pack rat damage and discoloration are also some of the things to look out for. 
Common Areas Exposed
to Sun & Elements
Indoor Window Seats & Benches

Sun Rooms

Pool Areas
Fabrics That Go Replaces Worn, Faded, or Weathered Fabrics, Inside & Out
Indoor & Outdoor Curtains

Lounge Chairs & Furniture

Slipcovers

Umbrellas

Outdoor Cushions
Pillows

Awnings

Foam Replacement
(in Cushions & Pillows)

More!
Sunbrella
---
Fabrics That Go has a large selection of vibrant colors and the experts to sew them in any quantity, size or shape!  Sunbrella is the optimum fabric at roughly 54″ wide, 100% acrylic.  It is top quality, stain resistant, fade resistant, water resistant, anti-microbial (non rot). Plus, care is easy- with home laundering (bleach solution acceptable).
UV-Resistant to Counter the Elements
Chemical reactions from UV rays cause degradation of fabrics over time.
Sunbrella fibers are saturated to the core with highly UV-stable pigments, making Sunbrella fabrics resistant to fading and the degrading effects of sunlight.
Find quality bargains on some of our best fabric designs and materials! You will find rock bottom pricing for more than half the price.
Frequent Use, High Traffic Areas
Sunbrella Fabrics are stain-resistant, water-resistant, and antimicrobial. All Sunbrella fabrics are engineered to resist mold and mildew. Should exposure to dirt and debris cause mold and mildew to occur, all Sunbrella fabrics can be easily and safely cleaned with bleach. Being easy to wipe up and clean, has led to the popularity of its utilization in high traffic furniture, both inside & out. Also, great for household with pets & kids.
Browse Over 10,000 Fabric Options
at Fabrics That Go
---
Ready to refresh your Arizona Home? Fabrics That Go does everything from fabric supply, complete upholstery/drapery services, to local pickup/delivery! 
Whether you are looking into using Sunbrella, or another home fabric for your project, we have a large selection of vibrant colors & patterns to fit any style. Fabrics That Go Experts sew them in any quantity, size or shape! Find the perfect fabric to match your home's design. Send us photos of your project/idea and we'll get back to you with a FREE QUOTE.
Need Inspiration? Follow us on Social Media!
Get Inspiration Our Projects
---
Thinking of giving your home or old furniture a facelift? Browse through some of our finished projects for inspiration on your next project!

Get Home Fabric Project Inspiration, Tips, & Fabrics That Go Updates!
---
Fabrics That Go loves to connect with fabric lovers all over the world! Subscribe to receive bi-monthly emails that highlight new fabric collections, home project ideas, decorating tips, and more!
We take pride in being part of your journey in designing your home, turning your vision into reality. From upholstery to drapery, and everything in between- we bring you Happiness By The Yard.
Let's Get Started!
Ready to redesign your home?  Fabrics That Go has over 10,000 bolts of fabric IN-STOCK to choose from, and can do quality custom upholstery  and custom drapery based on your needs and specifications. Outside of Arizona? Order online NOW for fabric shipped directly to your door!
Fabrics That Go – Tucson, AZ
We are happy to be Tucson's #1 Local Fabric Supplier, and would love to help you with any of your custom drapery, bedding, upholstery projects. Please feel free to contact us with any questions, we'd love to hear from you!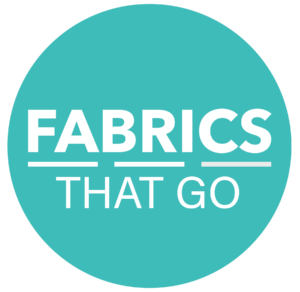 Do You Want to Learn How to Sew Custom Bedding, Drapery, & More?
If there is enough interest, Fabrics That Go is considering an adult sewing class where you can sew custom bed spreads, drapery, & more.
Please provide your information if you are interested in Adult Sewing Classes at Fabrics That Go.