What Are the Most Popular Projects During Spring?
Fabrics That Go
Arizona's beautiful Spring Season is here! It's the perfect time to start your next project! Take the initiative, and head over to Fabrics That Go for some inspiration. Whether you want to Do It Yourself (DIY), or you want a professional from Fabrics That Go to complete the project, bring your vision to reality with the help of the experts at Fabrics That Go.
Don't know where to start? Here are some great project ideas just for you.
Pillows
---
If you want a project that you can easily make at home, why don't you try making pillows? They're fun and easy to make and they belong just about anywhere. Pillows are great for beginners who want to improve their sewing skills.
Fabrics That Go has custom made pillows readily available for purchase, or you can choose your fabric and dimensions to have our experts make the perfect pillows in-house.
Slipcovers
---
Almost anything can be slipcovered. Slipcovers are there to protect your furniture or cover visible damage. They are great for high traffic furniture, since they can be removed and laundered. It can be a little complex to make slipcovers, so getting experts, like Fabrics That Go, to sew them for you after you've chosen the perfect fabric is advisable.
Re-Upholstery
---
Do you love your furniture, but the upholstery is worn, torn, faded, or just out of style? Starting an re-upholstery project can be a fun project to do over the spring season. Change the fabric on several pieces throughout your home and outdoor space to bring a theme and showcase your style. Browse through Fabrics That Go's 10,000+ bolts of in-stock fabric for inspiration and our expert upholstery team will bring your vision to reality. If you would like to DIY, we have everything you need to complete the project: foam, piping, fabric, buttons, and more.
Refurbishing a simple dining chair seat is pretty easy, and anyone can do it at home! For more complex upholstery projects, like couches and wingback chairs – have your local upholstery experts take over! 
Outdoor Furniture

– To prevent damage and fading from the hot Arizona sun, be sure that the fabrics you use are UV-Resistant

Sunbrella,

. For benches and other outdoor furniture, the fabrics used can make a difference.

Accent Chairs

– Having an accent chair in a corner of your home can do plenty in terms of your home's overall look. Customize your accent chair, add a pop of color, or a unique pattern, to bring together your home's style. 

Dining Chair Seats

– For a comfortable and stylish dining experience, choose from thousands of fabric to replace your current dining chair seats. Use highly durable fabric, that is easy to clean. Embrace the Southwestern Style or go Traditional, the possibilities are endless!
Drapery
---
Decorating your home with custom drapery can bring the ambiance of your home to another level, and spring is the perfect time to finally start the drapery project you've been putting off. 
Making beautifully-lined drapery to cover windows, among others, starts with purchasing the most ideal fabrics for your preferences. Our experts can provide measuring, hemming, lining, and more! Get a FREE Quote, and we'll complete your project from start to finish. You'll be filled with joy once you see the end result.
A Fun Project for Couples at Home
---
If you're looking for an enjoyable activity to do with your partner, then you can look into starting a home fabric project. Talk about the patterns you want, whether it's modern, vintage, southwestern, or other styles. Look for light pieces of furniture around the house that could use a refreshing, or bring about new ideas. Fabrics That Go is the most trusted local upholsterers and fabric suppliers, and can provide you with all the materials you'll need.
Don't limit yourself to the projects above. There are plenty of unique ideas that you can come up with. Once you have a project in mind, come into Fabrics That Go to get started.
Find quality bargains on some of our best fabric designs and materials! You will find rock bottom pricing for more than half the price.
Fabrics That Go Provides Everything from Fabric Supply to Upholstery
---
When you purchase fabrics for your springtime projects from us, you're guaranteed 100% quality textiles from the go-to locally-owned fabric shop in Arizona. We have a vast array of fabrics for drapery, upholstery, and pillows, or any project. Ask our experts about any design or functional aspects of your project, we provide FREE Quotes. 
Our expert upholsterers and seamstresses can take on any project – from reupholstery to custom drapery. Choose the style you want for your next project here at Fabrics That Go.
Need Inspiration? Follow us on Social Media!
Get Inspiration Our Projects
---
Thinking of giving your home or old furniture a facelift? Browse through some of our finished projects for inspiration on your next project!

Get Home Fabric Project Inspiration, Tips, & Fabrics That Go Updates!
---
Fabrics That Go loves to connect with fabric lovers all over the world! Subscribe to receive bi-monthly emails that highlight new fabric collections, home project ideas, decorating tips, and more!
We take pride in being part of your journey in designing your home, turning your vision into reality. From upholstery to drapery, and everything in between- we bring you Happiness By The Yard.
Let's Get Started!
Ready to redesign your home?  Fabrics That Go has over 10,000 bolts of fabric IN-STOCK to choose from, and can do quality custom upholstery  and custom drapery based on your needs and specifications. Outside of Arizona? Order online NOW for fabric shipped directly to your door!
Fabrics That Go – Tucson, AZ
We are happy to be Tucson's #1 Local Fabric Supplier, and would love to help you with any of your custom drapery, bedding, upholstery projects. Please feel free to contact us with any questions, we'd love to hear from you!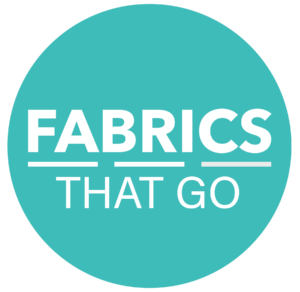 Do You Want to Learn How to Sew Custom Bedding, Drapery, & More?
If there is enough interest, Fabrics That Go is considering an adult sewing class where you can sew custom bed spreads, drapery, & more.
Please provide your information if you are interested in Adult Sewing Classes at Fabrics That Go.