Passionate Learning with Needles and Knots Sewing & Design Lab
Fabrics That Go
Fabrics That Go has partnered with locally owned, Needles and Knots (NAK) Sewing & Design Lab, to accommodate customers interested in sewing classes. Conveniently located just up the street from Fabrics That Go, their students come into our store to feast their eyes on the seemingly endless supply of fabric. With over 15,000 bolts of fabric in-stock, plus tassel, buttons & more- customers are sure to find the perfect supplies for their sewing project.
Website: naksewing.com
Location: 1735 East Fort Lowell Road, Suite 8 Tucson, AZ 85719
A love for sewing and a passion for fashion and design led to the creation of Needles and Knots (NAK) Sewing & Design Lab in 2019. Led by Shauna Smith, a graduate of the Fashion Institute of Design and Merchandising, it is a place to teach sewing basics and fashion design backed by her 20 years of experience.
NAK provides Tucson, Arizona with group lessons or private lessons. While specializing in apparel, they offer a range of projects accommodating various sewing skill levels. You can start with the basics of sewing but if you want something more intermediate, there are also other lessons available for you. The area where NAK holds its lessons doubles as an open studio with natural light and big windows. You get access to the equipment, including sewing machines, sergers and an enormous cutting table.
Sign up for NAK's Fundamentals Package, and includes two three-hour classes and one two-hour hand-sewing workshop. Visit naksewing.com for more information on upcoming classes & costs.
Sewing Basics Part 1 
Saturday, February 22;

Saturday, March 14 –

1:00 p.m. to 4 p.m.

Tuesday, March 10 –

9:00 a.m. to 12:00 p.m.

Sewing Basics Part 2 
Saturday, February 15;

Saturday, March 28 –

1:00 p.m. to 4:00 p.m
Tea and Hand Sewing
The Fourth Sunday of Each Month
2:00 p.m. until you are done

Sewing Fundamentals Package
Sewing Basics Parts 1 & 2
Tea and Hand Sewing Included

Serger and Overlock Basics
Saturday, February 29
1:00 p.m. to 4:00 p.m.

Sew With Patterns
The Lounge Pant
Saturday, March 7


10:00 a.m. to 4:00 p.m.
Mending: A Time to Wine
The Fourth Wednesday of Each Month
5:00 p.m. until you are done

Speed Sewing
February 16, 1:00 p.m. to 3 p.m.
Pattern Making Primer
February 22, 9:00 a.m. to 12:00 p.m.
From Concept to Customer: Design Basics
February 29, 9:00 a.m. to 11:00 a.m.
Drawing for Design
March 14, 9:00 a.m. to 12:00 p.m.
Pattern Making: Torso Sloper
March 21, 10:00 a.m. to 4:00 p.m.
Come in to Fabrics That Go for inspiration on your next fabric project. Our experts can answer any questions you might have in design & function. Provide project details & photos, to get a Free Quote on how much fabric you will need, along with the cost of labor for Fabrics That Go to upholster a piece of furniture or make custom drapery. Their expert crafters also make lampshades, bedding, pillows, slipcovers & any other project you can think of!
Browse Over 10,000 Fabric Options
at Fabrics That Go
---
Ready to refresh your Arizona Home? Fabrics That Go does everything from fabric supply, complete upholstery/drapery services, to local pickup/delivery! 
Whether you are looking into using Sunbrella, or another home fabric for your project, we have a large selection of vibrant colors & patterns to fit any style. Fabrics That Go Experts sew them in any quantity, size or shape! Find the perfect fabric to match your home's design. Send us photos of your project/idea and we'll get back to you with a FREE QUOTE.
Need Inspiration? Follow us on Social Media!
Get Inspiration Our Projects
---
Thinking of giving your home or old furniture a facelift? Browse through some of our finished projects for inspiration on your next project!

Get Home Fabric Project Inspiration, Tips, & Fabrics That Go Updates!
---
Fabrics That Go loves to connect with fabric lovers all over the world! Subscribe to receive bi-monthly emails that highlight new fabric collections, home project ideas, decorating tips, and more!
We take pride in being part of your journey in designing your home, turning your vision into reality. From upholstery to drapery, and everything in between- we bring you Happiness By The Yard.
Let's Get Started!
Ready to redesign your home?  Fabrics That Go has over 10,000 bolts of fabric IN-STOCK to choose from, and can do quality custom upholstery  and custom drapery based on your needs and specifications. Outside of Arizona? Order online NOW for fabric shipped directly to your door!
Fabrics That Go – Tucson, AZ
We are happy to be Tucson's #1 Local Fabric Supplier, and would love to help you with any of your custom drapery, bedding, upholstery projects. Please feel free to contact us with any questions, we'd love to hear from you!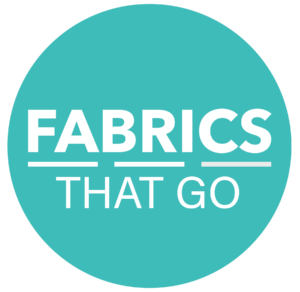 Do You Want to Learn How to Sew Custom Bedding, Drapery, & More?
If there is enough interest, Fabrics That Go is considering an adult sewing class where you can sew custom bed spreads, drapery, & more.
Please provide your information if you are interested in Adult Sewing Classes at Fabrics That Go.