Considering Style & Function in Drapery
Fabrics That Go
A room is incomplete without drapery. Drapery gives depth and dimension to a space, and helps you set the tone of the room. Every drapery decor is based on individual taste, window orientation, and function. Here are ways drapery styles & function can work together:. 
Block Out Sunlight with Roman Shades
---
This clean-cut drapery can look a little rigid, but choosing the right fabric can fix that. What's great about roman shades is that there's no fuss – all you have to do is pull a string, and it's rolled up. Roman shades are often made of thick, black-out type fabrics to control the amount of natural sunlight coming into a room. This makes it great for rooms where you need to keep distraction from the outside at a minimum, like bedrooms or study rooms.
Using Valances in Small Spaces
---
In areas such as kitchens, where long drapery is impractical, window valance is your go-to style. Valances are simple and easy to clean. They're also pretty versatile. In other rooms, you can use valances along with long drapery to give your windows more depth. They're also a great way to hide your curtain rods.
Find quality bargains on some of our best fabric designs and materials! You will find rock bottom pricing for more than half the price.
Let the Light in With Sheer Drapery
---
Sheer drapery can give your windows an elegant look. They're mostly used in living rooms because they let more light in than any kind of drapery fabric. While this means there's less privacy, they're often paired with opaque fabric for contrast. One popular way of styling sheer drapery is flanking it with geometric or floral patterns.
Quality Custom Drapery in Tucson, AZ
---
Need custom drapery made for your home? Drop by our store at 3105 N Campbell Ave., and browse thousands of indoor and outdoor drapery fabric. You'll be sure to find one that's right for you. Click the button below to upload photos of your project and get a FREE QUOTE today.
Box-pleated Drapery for Privacy
---
Box-pleated drapery are often used in more modern, contemporary homes. It's best used in living areas where you need privacy, because it often uses heavier, more opaque fabrics. People often use plain fabric for box-pleated drapery, but they look great with patterned fabric too!
Fabrics That Go's Brick-and-mortar has over 10,000 bolts of fabrics in stock! We do custom drapery to suit your home's style.
Our Recent Drapery Project
---
Fabrics that Go designed this project from custom drapes and curtains to complete upholstery of dining chairs and the living room accent chair with ottoman. Bedding and pillows were also customized to the client's specifications. All of the work done is in theme to design and functionality.
Need Inspiration? Follow us on Social Media!
Get Inspiration Our Projects
---
Thinking of giving your home or old furniture a facelift? Browse through some of our finished projects for inspiration on your next project!

Get Home Fabric Project Inspiration, Tips, & Fabrics That Go Updates!
---
Fabrics That Go loves to connect with fabric lovers all over the world! Subscribe to receive bi-monthly emails that highlight new fabric collections, home project ideas, decorating tips, and more!
We take pride in being part of your journey in designing your home, turning your vision into reality. From upholstery to drapery, and everything in between- we bring you Happiness By The Yard.
Let's Get Started!
Ready to redesign your home?  Fabrics That Go has over 10,000 bolts of fabric IN-STOCK to choose from, and can do quality custom upholstery  and custom drapery based on your needs and specifications. Outside of Arizona? Order online NOW for fabric shipped directly to your door!
Fabrics That Go – Tucson, AZ
We are happy to be Tucson's #1 Local Fabric Supplier, and would love to help you with any of your custom drapery, bedding, upholstery projects. Please feel free to contact us with any questions, we'd love to hear from you!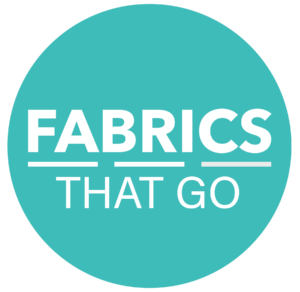 Do You Want to Learn How to Sew Custom Bedding, Drapery, & More?
If there is enough interest, Fabrics That Go is considering an adult sewing class where you can sew custom bed spreads, drapery, & more.
Please provide your information if you are interested in Adult Sewing Classes at Fabrics That Go.