Top Reasons to Upholster an Old Piece of Furniture
Fabrics That Go
Whether you're moving into a new home or redecorating, you can't help but notice old furniture that has been lying around for years. Maybe you bought it years ago, or it was inherited from a family member. Be it an old lounge chair, faded couch, or ripped cushions, the urge to replace old furniture is strong because it looks out of place, or outdated. But is it really practical to get rid of them and buy a new one? If you want to refresh your furniture, reupholstering might just do the trick.
New Look, Old Memories
---
An ottoman you bought with your first salary, the chair cushions you bought for your first house, or your father's favorite chair – things with sentimental value are hard to throw away. That doesn't mean you'd have to keep them in your garage so new ones can take their place. With proper care, they can serve as family heirlooms. Classic pieces of furniture can easily be modified to fit your current style. It just needs the right kind of fabric and skilled reupholsterers. 
Client Testimonial
---
Thank you a million for revitalizing our Queen Anne's so beautifully! I told My husband that the style might date us but then he reminded me that the antique set is 1800's!! I started to take inventory of the entire room and average age of furniture is 1800 with a nod to 1700 in wall coverings!!! We now have trendy fabric! – Happy Tucson Customer
Quality Upholstery Services in Tucson, AZ
---
Got an old couch that's too precious to let go off? Drop by our store at 3105 N Campbell Ave., and browse thousands of upholstery grade fabric. You'll be sure to find one that's right for you. Click the button below to upload photos of your project and get a FREE QUOTE today.
Better Fabric for Longevity and Style
---
When choosing the right upholstery-grade fabric, you have to take some things into consideration: Do you want the space to appear bright, simple, or intricate? Who's going to use the space? How often is it going to be used? For example, Mildew-proof fabrics like Sunbrella is great for both indoor and outdoor use. Aside from being easy to clean, it can withstand high traffic, so you don't have to worry about it being used to often. Most upholstery-grade fabrics comes in different textures, colors, and patterns that can match any space in your home. The possibilities of customization are endless.
Environmentally Friendly
---
We need to bring back the good old habit of fixing things when they're broken. The idea of getting new furniture may sound great, but nothing beats the feeling of giving old things new value.  Re-upholstering lengthens the life of your furniture. By simply modifying your old couch or chair, you're creating far less waste, and using less energy. 
High Quality, High Value
---
Don't throw out Granny's Victorian-style chairs just yet. Oftentimes, older furniture is made with high quality materials & unique designs that is held at high value these days. Breath new life into it by choosing durable, elegant, upholstery-grade fabrics- making them looks as good as new. If you can't find a place in your home for old furniture, why not reupholster and refurbish them? If it doesn't fit your home's style, you can easily put it up on ebay or Craigslist – that way you'll have funds to buy a new, modern couch or chair for your living room. Fabrics That Go makes custom-made furniture to fit your style >>
Inspiration Our Projects
---
Thinking of giving your home or old furniture a facelift? Browse through some of our finished projects for inspiration!

Get Home Fabric Project Inspiration, Tips, & Fabrics That Go Updates!
---
Fabrics That Go loves to connect with fabric lovers all over the world! Subscribe to receive bi-monthly emails that highlight new fabric collections, home project ideas, decorating tips, and more!
We take pride in being part of your journey in designing your home, turning your vision into reality. From upholstery to drapery, and everything in between- we bring you Happiness By The Yard.
Let's Get Started!
Ready to redesign your home?  Fabrics That Go has over 10,000 bolts of fabric IN-STOCK to choose from, and can do quality custom upholstery  and custom drapery based on your needs and specifications. Outside of Arizona? Order online NOW for fabric shipped directly to your door!
Fabrics That Go – Tucson, AZ
We are happy to be Tucson's #1 Local Fabric Supplier, and would love to help you with any of your custom drapery, bedding, upholstery projects. Please feel free to contact us with any questions, we'd love to hear from you!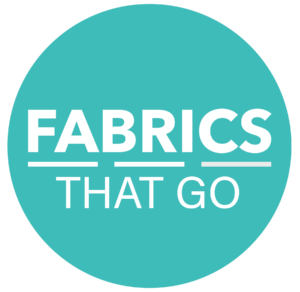 Do You Want to Learn How to Sew Custom Bedding, Drapery, & More?
If there is enough interest, Fabrics That Go is considering an adult sewing class where you can sew custom bed spreads, drapery, & more.
Please provide your information if you are interested in Adult Sewing Classes at Fabrics That Go.