Projects That You Can Do At Home
Fabrics That Go
Downtime at home can get quite dull and monotonous. What better way to pass the time than to start a project at home? It's the perfect time to start your next project, whether it's a Do-It-Yourself project, or even a more complicated upholstery or drapery project. 
Think about the design of your home. Are you missing an element to exemplify your current style, or do you want to be more daring and explore a completely new look. 
Here are some projects you can do to pass the time during the COVID-19 pandemic, utilizing fabrics and accessories from
Fabrics That Go
.
Pillows
---
Whether indoor or outdoor, pillows can be a simple way to bring a pop of color or add personality with unique patterns. Add buttons, tassels, piping, and more! 
You can get all of the materials needed to complete this project at Fabrics That Go. Let us know your vision and we can provide swatches and photos of fabric options that fit your interests. Contact our experts to get recommendations on the amount of fabric, foam, and more!
Table Runners
---
Do you want to make something simple to sew, that adds a dash of elegance to your dining table? Then table runners are perfect for your next home project. Make a different table runner for every occasion! Think of all the holidays and seasons that you can utilize these runners year after year. Shop online to get inspiration or contact us with your ideas, and we can send over more fabric options that may not be available online yet. Shipping straight to your door!
Oven Mitts
---
Every home needs oven mitts, especially when you are cooking more at home during the pandemic, and custom making your own to match the motif of your home will leave you wanting to make more! Start early on your home-made birthday or Christmas gifts by making them for all of your friends and family. You can find many DIY guides on making them at home. Support a local fabric supplier by shopping online with Fabrics That Go.
Dining Chair Seats
---
Have you been noticing recently that your dining chairs have become worn or damaged? Now is your chance to give them that fresh new look. Reupholster simple dining chair seats yourself by using fabric of your choice, to compliment your dining room style. 
Check out how one of our customers utilized Serape fabric from Fabrics That Go to revitalize an old chair.
Face Masks
---
Face masks have become must-have items nowadays, as the CDC recommends covering your mouth and nose with a cloth covering during the pandemic. Why not try creating your own face masks at home? Making your own masks will not only provide a fun activity, but will make a difference in containing the spread of COVID-19.  With different styles of fabrics available, you can also incorporate beautiful designs for the masks that you create. Make one for everyone in your family! If you want mask that are ready to wear, Fabrics That Go has masks made by our sewing expert, available for purchase.
There are plenty of projects that you can simply do at home to alleviate the boredom as most everything is locked down. Try to innovate or switch up your design. Get creative! You'll find yourself busier than ever with your new home projects. 
Send Us Your Completed Projects! We love seeing & sharing our customers' beautiful projects.
Fabrics That Go Ships Quality Fabrics for Your Next Project
As the world works to contain the spread of COVID-19, you will likely be at home for weeks on end. Find creative ways to fill your time, and have fun! Fabrics That Go is a local, family owned business that has been in business over 75 years. Get all the materials that you need to complete your project, shipped directly to your door.
Find quality bargains on some of our best fabric designs and materials! You will find rock bottom pricing for more than half the price.
We Are Still Accepting Upholstery Projects
---
If you have an upholstery or drapery project that is more complicated, submit your project details and photos for a FREE Quote. Our experts will provide you with the cost of materials, and also labor costs for our team to complete your project. Local delivery and pickup available.
For your safety and ours, Masks & Gloves are worn along with social distancing practices for pickups/deliveries.
Need Inspiration? Follow us on Social Media!
Get Southwestern Fabrics for Your Projects
---
Thinking of giving your home or old furniture a facelift? Browse through some of our finished projects for inspiration on your next project!
Shipping Fabrics For Your Next Project, While You Stay Home
---
Support a LOCAL company for your next project. It's advisable at this time to adhere to social distancing and stay at home, but if you have a project in mind and you need fabric to accomplish it, then you can count on Fabrics That Go.
Choose from a wide range of Southwestern designs, along with other styles, for upholstery, drapery, pillows, tablecloths and more. Shop Online at shop.fabricsthatgo.com and have your materials delivered.
Local Pickup & Delivery Available
---
If you have a project in mind that you cannot do yourself, our team is still available to get the job done. Get a FREE Quote on your upholstery or drapery projects (Local Pickup & Delivery Available). Get a FREE QUOTE today!
Get in Touch
---
If you have any questions about what materials & accessories you might need for your project, please contact us by filling out the following form or emailing jean@fabricsthatgo.com.
Thank you so much for supporting a local, family owned business. Our team at Fabrics That Go appreciates your business during this trying time.

Get Home Fabric Project Inspiration, Tips, & Fabrics That Go Updates!
---
Fabrics That Go loves to connect with fabric lovers all over the world! Subscribe to receive bi-monthly emails that highlight new fabric collections, home project ideas, decorating tips, and more!
We take pride in being part of your journey in designing your home, turning your vision into reality. From upholstery to drapery, and everything in between- we bring you Happiness By The Yard.
Let's Get Started!
Ready to redesign your home?  Fabrics That Go has over 10,000 bolts of fabric IN-STOCK to choose from, and can do quality custom upholstery  and custom drapery based on your needs and specifications. Outside of Arizona? Order online NOW for fabric shipped directly to your door!
Fabrics That Go – Tucson, AZ
We are happy to be Tucson's #1 Local Fabric Supplier, and would love to help you with any of your custom drapery, bedding, upholstery projects. Please feel free to contact us with any questions, we'd love to hear from you!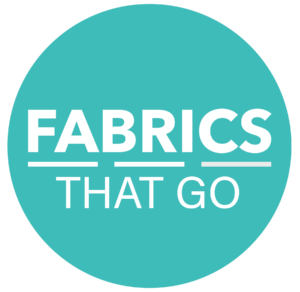 Do You Want to Learn How to Sew Custom Bedding, Drapery, & More?
If there is enough interest, Fabrics That Go is considering an adult sewing class where you can sew custom bed spreads, drapery, & more.
Please provide your information if you are interested in Adult Sewing Classes at Fabrics That Go.