Happy New Year: Studies Show Home Projects Can Lead to Joy
Fabrics That Go
Home Projects Have Lots of Benefits, Especially for the New Year
Whether it's reupholstering old furniture or creating beautiful pillow cases, home projects with fabrics are a great way to boost your mood. Here at Fabrics That Go, we put emphasis on style along with function when it comes to home projects we can help you complete or even DIY home project ideas. Since the New Year is right around the corner, it's the perfect time to start a fun project.
What are the benefits of completing a project and how will it benefit you in the long run?
Home Projects Can Make You Feel More Fulfilled
Even the smallest of home projects can help you set and complete goals, to make you feel a sense of productivity and accomplishment. Engaging in home projects gives you motivation that will push you onward for more amazing things, whether it's a more difficult home project or another goal you have been considering. Happiness can be increased by having simply finished a task, and your accomplishment can be displayed in your home, bringing joy every time you see it.
Home Projects Can Showcase the Real You
The current state of global events has left most of us cooped up in our homes. With your preferences and design in mind, home projects can turn your space into everything you've envisioned for your dream home. It's satisfying to see your style and personality come to life in your home furnishings, drapery, or even a simple accent chair or table runner. Many people become complacent with their current surroundings, and now is the perfect time to make your house the home you've always wanted. Who wouldn't want to come home to an incredible dining room or bedroom designed specifically to your taste?
Upholstery, Drapery, and more!
Make your home more your own, by getting quality fabrics and materials from Fabrics That Go. Not only do we provide materials for DIY home projects, we complete any fabric project right here, in-house, at Fabrics That Go in Tucson, AZ. We specialize in custom upholstery and drapery, as well as completing smaller projects such as table runners, pillow, lamp shades, and more! Get a free quote today and we can let you know what your project needs, and how much it costs for us to complete the project for you.
You can even make your own masks to help your family and community against the growing global health crisis. Get the materials you need from us for cloth masks that are unique in style while providing covering of the nose and mouth as recommended by the CDC.
Get inspired by the new year, and start your next project. You'll certainly reap the benefits of doing so and feel joy when you make your vision into reality. With the right ideas, inspiration, and materials at your disposal, the possibilities are endless.
Let Fabrics That Go Help
Kickstart your home project by contacting us for ideas and inspiration. We provide you with premium-quality fabrics from our selection of over 10,000 bolts. Fabrics That Go has fabric of every style and functionality to help you on your way to a more fulfilling home.
Shop online today or contact us for project ideas and free estimates.
Everything Needed at Fabrics That Go
Pick from any style you want for your chair upholstery from our vast collection of fabrics, with over 10,000 bolts of fabrics available for you to choose from. We complete your project from start to finish, get a free quote to learn how much materials would cost and how much it would be for us to upholster. We also custom make furniture, where customers choose their silhouette and fabric.
Fabrics That Go provides premium-quality fabrics and materials for the project that you have in mind, whether you're looking to reupholster or create table runners, tablecloths, or window treatment. 
If any project proves too difficult to DIY, get a quote to find out how much it would cost us to complete.
Shop now and choose from our vast selection of fabrics. If you can't find what you need online, contact us for recommendations we can send that may not be available online yet. Shipping and pickup available.
Buy Fabric for DIY Masks
Fabrics for Making Masks at Fabrics That Go
---
If you're making your own masks, you will need suitable fabrics to help protect yourself from the novel coronavirus.
We recommend 100% cotton fabrics for making cloth masks. Please do not hesitate to contact us for personalized recommendations.  Check out our selection in store, online for curbside pick up or shipping.
Find quality bargains on some of our best fabric designs and materials! You will find rock bottom pricing for more than half the price.
We Are Accepting Upholstery Projects
---
If you have an upholstery or drapery project that is more complicated, submit your project details and photos for a FREE Quote. Our experts will provide you with the cost of materials, and also labor costs for our team to complete your project. Local delivery and pickup available.
For your safety and ours, Masks & Gloves are worn along with social distancing practices for pickups/deliveries.
Need Inspiration? Follow us on Social Media!
Get Southwestern Fabrics for Your Projects
---
Thinking of giving your home or old furniture a facelift? Browse through some of our finished projects for inspiration on your next project!
Shipping Fabrics For Your Next Project, While You Stay Home
---
Support a LOCAL company for your next project. It's advisable at this time to adhere to social distancing and stay at home, but if you have a project in mind and you need fabric to accomplish it, then you can count on Fabrics That Go.
Choose from a wide range of Southwestern designs, along with other styles, for upholstery, drapery, pillows, tablecloths and more. Shop Online at shop.fabricsthatgo.com and have your materials delivered.
Get in Touch
---
If you have any questions about what materials & accessories you might need for your project, please contact us by filling out the following form or emailing jean@fabricsthatgo.com.
Thank you so much for supporting a local, family owned business. Our team at Fabrics That Go appreciates your business during this trying time.

Get Home Fabric Project Inspiration, Tips, & Fabrics That Go Updates!
---
Fabrics That Go loves to connect with fabric lovers all over the world! Subscribe to receive bi-monthly emails that highlight new fabric collections, home project ideas, decorating tips, and more!
We take pride in being part of your journey in designing your home, turning your vision into reality. From upholstery to drapery, and everything in between- we bring you Happiness By The Yard.
Let's Get Started!
Ready to redesign your home?  Fabrics That Go has over 10,000 bolts of fabric IN-STOCK to choose from, and can do quality custom upholstery  and custom drapery based on your needs and specifications. Outside of Arizona? Order online NOW for fabric shipped directly to your door!
Fabrics That Go – Tucson, AZ
We are happy to be Tucson's #1 Local Fabric Supplier, and would love to help you with any of your custom drapery, bedding, upholstery projects. Please feel free to contact us with any questions, we'd love to hear from you!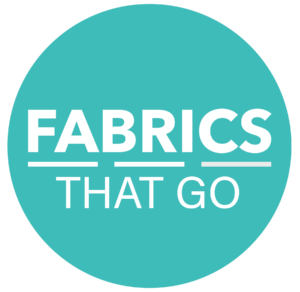 Do You Want to Learn How to Sew Custom Bedding, Drapery, & More?
If there is enough interest, Fabrics That Go is considering an adult sewing class where you can sew custom bed spreads, drapery, & more.
Please provide your information if you are interested in Adult Sewing Classes at Fabrics That Go.