Four Benefits of Reupholstery
Fabrics That Go
Everyone's spending more time at home and this could be the perfect opportunity to fix damaged furniture or consider reupholstery. Since you're home, you should assess which pieces of furniture are outdated or worn. You'll probably be surprised to find many improvements that could be made. 
What are the benefits of reupholstering your furniture like sofas, chairs, ottomans, headboards, and more?
A Fresh New Look
---
Does your home's appearance reflect your personal style and personality? What is the condition of your furniture? Maybe you love the silhouette of your piece, but the fabric just doesn't fit your current style. You don't have to throw out pieces of furniture altogether because you can simply reupholster them.
Adding More Value to Invaluable Antique
---
If you have antique furniture, chances are, they've seen better days. You can always reupholster them so that they can function as they should, all while retaining that timeless antique look. There are fabrics that you can choose from that will surely complement that classic piece of furniture.
High Quality, High Value
---
Oftentimes, older furniture is made with higher quality structure materials than today's & their unique designs are held at high value these days. They just need a facelift by replacing the worn upholstery. Breath new life into it by choosing elegant, upholstery-grade fabrics, making them look as good as new.
Environmentally-Friendly
---
Reupholstery will help the environment by reducing the amount of non-biodegradable materials being dumped that will pile up and pollute the surroundings. Not only will you be able to keep sentimental pieces, but you're also saving the environment.
Give your furniture that fresh clean start with elegant fabrics that are sure to complement your entire home. Since you're staying in more, you deserve to enjoy your time in comfort and style.
Check out how one of our customers utilized Serape fabric from Fabrics That Go to revitalize an old chair.
Get a Free Quote
Fabrics That Go offers complete upholstery services, from recommending the perfect fabric for your style, to expert upholsterers that bring your vision to life. Local Pickup and Delivery Available.
With more than 10,000 bolts of fabrics available, you will surely find the one you need for your upholstery project. Fabrics That Go is the go-to place for quality fabrics from a locally owned business.
 If you cannot find what you are looking for on shop.fabricsthatgo.com, please contact us, let us know what you are looking for and we will send you some options that we have in stock at our store that is not available online.
Find quality bargains on some of our best fabric designs and materials! You will find rock bottom pricing for more than half the price.
We Are Still Accepting Upholstery Projects
---
If you have an upholstery or drapery project that is more complicated, submit your project details and photos for a FREE Quote. Our experts will provide you with the cost of materials, and also labor costs for our team to complete your project. Local delivery and pickup available.
For your safety and ours, Masks & Gloves are worn along with social distancing practices for pickups/deliveries.
Need Inspiration? Follow us on Social Media!
Get Southwestern Fabrics for Your Projects
---
Thinking of giving your home or old furniture a facelift? Browse through some of our finished projects for inspiration on your next project!
Shipping Fabrics For Your Next Project, While You Stay Home
---
Support a LOCAL company for your next project. It's advisable at this time to adhere to social distancing and stay at home, but if you have a project in mind and you need fabric to accomplish it, then you can count on Fabrics That Go.
Choose from a wide range of Southwestern designs, along with other styles, for upholstery, drapery, pillows, tablecloths and more. Shop Online at shop.fabricsthatgo.com and have your materials delivered.
Get in Touch
---
If you have any questions about what materials & accessories you might need for your project, please contact us by filling out the following form or emailing jean@fabricsthatgo.com.
Thank you so much for supporting a local, family owned business. Our team at Fabrics That Go appreciates your business during this trying time.

Get Home Fabric Project Inspiration, Tips, & Fabrics That Go Updates!
---
Fabrics That Go loves to connect with fabric lovers all over the world! Subscribe to receive bi-monthly emails that highlight new fabric collections, home project ideas, decorating tips, and more!
We take pride in being part of your journey in designing your home, turning your vision into reality. From upholstery to drapery, and everything in between- we bring you Happiness By The Yard.
Let's Get Started!
Ready to redesign your home?  Fabrics That Go has over 10,000 bolts of fabric IN-STOCK to choose from, and can do quality custom upholstery  and custom drapery based on your needs and specifications. Outside of Arizona? Order online NOW for fabric shipped directly to your door!
Fabrics That Go – Tucson, AZ
We are happy to be Tucson's #1 Local Fabric Supplier, and would love to help you with any of your custom drapery, bedding, upholstery projects. Please feel free to contact us with any questions, we'd love to hear from you!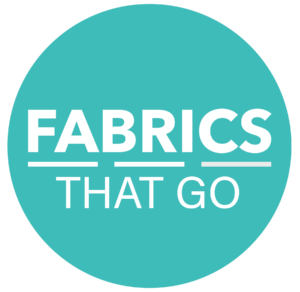 Do You Want to Learn How to Sew Custom Bedding, Drapery, & More?
If there is enough interest, Fabrics That Go is considering an adult sewing class where you can sew custom bed spreads, drapery, & more.
Please provide your information if you are interested in Adult Sewing Classes at Fabrics That Go.