Claire Grunstein's Entrepreneur of the Year Award & Upcoming Appearances
Fabrics That Go
Fabrics That Go is one of the oldest businesses in Arizona. A big part of this resilience through the years is the Founder of Fabric that Go, Claire Grunstein. Without a hint of slowing down, Claire is in her 90's and still works at the store 30 hours a week. Claire has seen Arizona grow before her eyes as she continues to grow her thriving Tucson fabric business. She adapts to new trends & technology to keep her business flourishing.
72 years in the business
---
Arizona businesses come & go, but Fabrics That Go has stayed strong over the years.  Because of her humble beginnings, Claire has appreciated the simplest things in life. At 16, she got out of school and worked secretarial jobs in New York. Working across the street from the New York Library, she had the opportunity of learning from their many books. She started her obsession of fabric and fashion as Lord & Taylor was also on the same street.
She met her husband, Herman, at a ball in New York. They married in 1954 and had two sons who are actively part of the business. Herman supported Claire and her love for fabrics as they built the company from the ground-up. 
Currently, Fabrics that Go has a 13,000 square foot store, with more than 10,000 bolts of fabrics around the world, along with a fully functional online store, where inventory is added daily. 
Entrepreneur of the Year
---
As a businesswoman of today, Claire will be honored as Entrepreneur of the Year by Ready Set Go Foundation on September 27, at the Biltmore Hotel for her contribution to the Arizona Community and becoming an inspiration to business owners. Her achievements in business are encouraging and inspiring entrepreneurs of all generations. 
Ready Set Go (RSG) Foundation is an organization that aims to help women, the underserved, and veteran entrepreneurs. They empower and educate people to become financially independent, and to help build income for their families through business ownership.
To learn more, visit rsgsummit.org.
Watch Out for Claire's Upcoming Appearances
---
Claire will also be interviewed by Arizona's Trusted Home Improvement Resource Rosie on the House, and will by featured on Tucson's Local News Segment KGUN 9 On Your Side as well. Stay Tuned- Dates to be determined and announced.
Quality Upholstery & Drapery Services in Tucson, AZ
---
Want to revamp your patio with outdoor drapery? Or simply want to get an old furniture reupholstered? Drop by our store at 3105 N Campbell Ave., and browse thousands of outdoor & upholstery-grade fabric. You'll be sure to find one that's right for you. Click the button below to upload photos of your project and get a FREE QUOTE today.
Inspiration Our Projects
---
Thinking of giving your home or old furniture a facelift? Browse through some of our finished projects for inspiration!

Get Home Fabric Project Inspiration, Tips, & Fabrics That Go Updates!
---
Fabrics That Go loves to connect with fabric lovers all over the world! Subscribe to receive bi-monthly emails that highlight new fabric collections, home project ideas, decorating tips, and more!
We take pride in being part of your journey in designing your home, turning your vision into reality. From upholstery to drapery, and everything in between- we bring you Happiness By The Yard.
Let's Get Started!
Ready to redesign your home?  Fabrics That Go has over 10,000 bolts of fabric IN-STOCK to choose from, and can do quality custom upholstery  and custom drapery based on your needs and specifications. Outside of Arizona? Order online NOW for fabric shipped directly to your door!
Fabrics That Go – Tucson, AZ
We are happy to be Tucson's #1 Local Fabric Supplier, and would love to help you with any of your custom drapery, bedding, upholstery projects. Please feel free to contact us with any questions, we'd love to hear from you!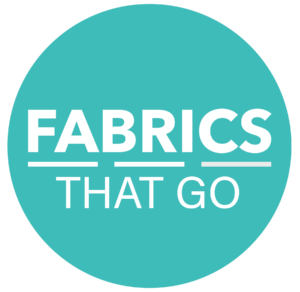 Do You Want to Learn How to Sew Custom Bedding, Drapery, & More?
If there is enough interest, Fabrics That Go is considering an adult sewing class where you can sew custom bed spreads, drapery, & more.
Please provide your information if you are interested in Adult Sewing Classes at Fabrics That Go.