Tips to Get Outdoor Living Spaces Ready for Fall
Fabrics That Go
After the long summer, the orange leaves slowly plummeting to the ground is a welcome sight. Finally, the temperatures are dropping, even in sunny Arizona! What better way to welcome Fall than to prepare your outdoor living space, so you can enjoy the scenery with your family and friends? Here are ways you can refresh your backyard for the fall season.
Deep Cleaning Your Patio
---
It's important to give your patio a little scrubbing down once in a while. Fall season will bring in a lot of debris and insects into your deck or patio, so it's important to sweep them off as often as you can. Use a pressure washer to deep clean wood or tile flooring with difficult stains. But remember, while pressure washers be fine for some surfaces, it can also peel off grout between concrete and turn wood softer. So remember to keep a six-inch distance from the wood and don't set the power too high.
Replace or Reupholster Outdoor Furniture
---
Create a stylish outdoor space where your guests can feel comfortable while enjoying the fall breeze. If the summer heat did a number on your upholstered outdoor furniture, consider having them reupholstered with high-quality fabric like Sunbrella. Sunbrella fabrics are waterproof, stain proof, and doesn't fade. It's also great for high traffic areas where you entertain guests or lounge around with family.
Slipcovers, Cushions, and Pillows
---
You can never go wrong with adding more comfort in your lounge area. Outdoor cushions and pillows don't only provide comfort, they also uplift the space if you use colorful fabric. Slipcovers are also a great way of protecting your furniture while keeping it comfy. One trick is to make sure you use contrasting colors. For example, if you're using blue slipcovers, orange and yellow pillows can provide a striking contrast. Making use of patterns against plains is also a must!
Quality Upholstery Services in Tucson, AZ
---
Got an old couch that's too precious to let go off? Drop by our store at 3105 N Campbell Ave., and browse thousands of upholstery grade fabric. You'll be sure to find one that's right for you. Click the button below to upload photos of your project and get a FREE QUOTE today.
Get Your Lawn Ready for Fall
---
Raking leaves and keeping your lawn clean may sound tedious, but it's necessary. By raking leaves, you're allowing your lawn to breathe. Piles of moist leaves may invite pests and insects, and this is why you should never miss cleaning your lawn. You can also turn fallen leaves into mulch to fertilize bare soil. Your pool also needs regular cleaning if it's not covered. Pruning shrubs and branches can also help prevent more debris from falling into your pool or deck.
Many lazy afternoons will be spent in your backyard during fall. It's important to keep it cozy for frequent use. Want a custom furniture project made for your backyard? Drop by Fabrics That Go and browse through our massive collection of outdoor fabric. You can also upload your project for a FREE QUOTE.
Inspiration Our Projects
---
Thinking of giving your home or old furniture a facelift? Browse through some of our finished projects for inspiration!

Get Home Fabric Project Inspiration, Tips, & Fabrics That Go Updates!
---
Fabrics That Go loves to connect with fabric lovers all over the world! Subscribe to receive bi-monthly emails that highlight new fabric collections, home project ideas, decorating tips, and more!
We take pride in being part of your journey in designing your home, turning your vision into reality. From upholstery to drapery, and everything in between- we bring you Happiness By The Yard.
Let's Get Started!
Ready to redesign your home?  Fabrics That Go has over 10,000 bolts of fabric IN-STOCK to choose from, and can do quality custom upholstery  and custom drapery based on your needs and specifications. Outside of Arizona? Order online NOW for fabric shipped directly to your door!
Fabrics That Go – Tucson, AZ
We are happy to be Tucson's #1 Local Fabric Supplier, and would love to help you with any of your custom drapery, bedding, upholstery projects. Please feel free to contact us with any questions, we'd love to hear from you!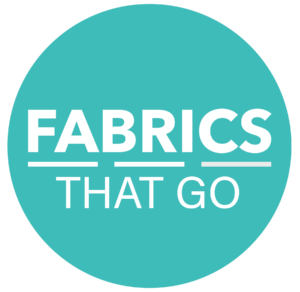 Do You Want to Learn How to Sew Custom Bedding, Drapery, & More?
If there is enough interest, Fabrics That Go is considering an adult sewing class where you can sew custom bed spreads, drapery, & more.
Please provide your information if you are interested in Adult Sewing Classes at Fabrics That Go.