How Southwest Culture Has Become Mainstream
Fabrics That Go
During the craziness of the COVID-19 pandemic, it is helpful to take your mind off the chaos by stirring up some creativity. Now that you are confined to activities within your home, you finally have time to focus on the design and functionality of your household, along with a deep spring cleaning.
Explore different styles that you have always admired, but never had the chance to exemplify in the style of your home. Today, we explore the beauty of Southwestern Patterns in fabrics that can be used around the house.
Fabrics That Go is based in Tucson, Arizona- where Southwestern Culture is a lifestyle. Southwestern culture is influenced by the desert, warm sunsets, cactus & succulents, Native American Art, and more! 
In fact, Southwestern culture has gained mainstream recognition worldwide, with customers all over the world seeking unique Southwestern fabrics.
The Roots of Southwestern Culture
---
The Pueblo, Navajo, and Apache tribes have had a rich artistic history. These tribes, specifically the Navajo, produced beautifully designed woven blankets that later evolved into rugs.
Textiles with a Southewestern flair came later in the 19th century, with those crafted by different tribes featuring distinguishable traits. Most of them incorporated strong geometric shapes that are easily recognizable today.
The Appeal of the American Southwest
---
As a result of the Native American tribes in the area, American Southwest culture borrows heavily from Native art and motifs, inspired by nature and faith among the natives. The role of Southwest culture in the United States runs deep, and has even oozed out onto numerous communities outside of the United States, who have been captivated by the richness of the unique style. From imagery of cactus, sandstone palettes to spiritually-inspired arts and patterns, it's no surprise that many have embraced Southwestern culture.
Southwestern Decor is trending on platforms such as Pinterest or Houzz, among other design applications and establishments. Home decorators are finding the Southwestern decor feels minimalist but not at all sterile or underdone. It is not necessary to go full Southwestern to take advantage of the aesthetic; plenty of pieces would fit seamlessly into your home, regardless of what decor profile you already have going on. Southwestern fabrics can add a splash of personality, with an upholstered accent chair, pillows, or even curtains.
Find quality bargains on some of our best fabric designs and materials! You will find rock bottom pricing for more than half the price.
Modern-Day Southwestern Designs
---
Take a look at an array of Southwestern fabrics from Fabrics That Go, to see how Southwestern culture can fit your home's design. These range from the familiar geometric patterns stemming from Native American designs to more stylized depictions of the American Southwest- from deserts, native flora and fauna, and others.
If you're looking for that Southwestern aesthetic for the project that you can work on during quarantine, Fabrics That Go has you covered.
Need Inspiration? Follow us on Social Media!
Get Southwestern Fabrics for Your Projects
---
Thinking of giving your home or old furniture a facelift? Browse through some of our finished projects for inspiration on your next project!
Shipping Fabrics For Your Next Project, While You Stay Home
---
Support a LOCAL company for your next project. It's advisable at this time to adhere to social distancing and stay at home, but if you have a project in mind and you need fabric to accomplish it, then you can count on Fabrics That Go.
Choose from a wide range of Southwestern designs, along with other styles, for upholstery, drapery, pillows, tablecloths and more. Shop Online at shop.fabricsthatgo.com and have your materials delivered.
Local Pickup & Delivery Available
---
If you have a project in mind that you cannot do yourself, our team is still available to get the job done. Get a FREE Quote on your upholstery or drapery projects (Local Pickup & Delivery Available). Get a FREE QUOTE today!
Get in Touch
---
If you have any questions about what materials & accessories you might need for your project, please contact us by filling out the following form.
Thank you so much for supporting a local, family owned business. Our team at Fabrics That Go appreciates your business during this trying time.

Get Home Fabric Project Inspiration, Tips, & Fabrics That Go Updates!
---
Fabrics That Go loves to connect with fabric lovers all over the world! Subscribe to receive bi-monthly emails that highlight new fabric collections, home project ideas, decorating tips, and more!
We take pride in being part of your journey in designing your home, turning your vision into reality. From upholstery to drapery, and everything in between- we bring you Happiness By The Yard.
Let's Get Started!
Ready to redesign your home?  Fabrics That Go has over 10,000 bolts of fabric IN-STOCK to choose from, and can do quality custom upholstery  and custom drapery based on your needs and specifications. Outside of Arizona? Order online NOW for fabric shipped directly to your door!
Fabrics That Go – Tucson, AZ
We are happy to be Tucson's #1 Local Fabric Supplier, and would love to help you with any of your custom drapery, bedding, upholstery projects. Please feel free to contact us with any questions, we'd love to hear from you!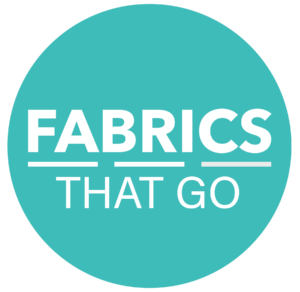 Do You Want to Learn How to Sew Custom Bedding, Drapery, & More?
If there is enough interest, Fabrics That Go is considering an adult sewing class where you can sew custom bed spreads, drapery, & more.
Please provide your information if you are interested in Adult Sewing Classes at Fabrics That Go.