Interior Designers: Custom Pieces to Fit Their Vision
Fabrics That Go
Interior designers face challenges when looking for pieces to match their vision for their clients. A lot of times, they draw up ideas for color palettes and textures in furniture upholstery, drapery, pillows, lampshades, and many other features throughout residential and commercial spaces. 
A number of times, they can't really find a piece that they want. They're forced to compromise with fabrics that aren't really what they were looking for. This poses a problem, resulting in potentially reduced satisfaction from not only the client, but with their personal standards. Luckily in Tucson, there's Fabrics That Go. Experts provide insight and help designers find the perfect fabrics for their needs, based on a number of factors including style & function.
Why Fabric Matters for Interior Design
---
Interior Designers typically work with clients that seek unique styles that they cannot easily get commercially. These clients have higher standards that are not met by cheap furniture or mass produced drapery, among other mainstreamed pieces, that any person can get in stores. Interior Designers are given the task to provide a wow-factor, where every piece is a conversation starter. 
Fabrics That Go provides designers with premium grade fabrics for commercial upholstery and drapery, in many styles & materials, perfect for any home or business.
The Choice of Interior Designers
---
Interior designers always have a field day at Fabrics That Go, looking through over 10,000+ bolts of fabric, and having them upholstered into unique and elegant pieces to match their vision. Arizona's top interior designers also work with Fabrics That Go to have their choice of fabric made into custom drapery. 
We are the one-stop shop for designers, where we make the window treatments according to the exact measurements. Fabric Experts provide consultations, measurements, and complete labor for any fabric project. 
Choose Fabrics That Go Today
---
Based in Tucson, AZ, while also selling fabric online, we are the most trusted when it comes to fabric supply, upholstery, drapery, and more. We've been in business for over 40 years with a large selection of fabrics for upholstery, drapery, pillows, headboards, dining chairs, and more. Interior designers love our exquisite selection here at Fabrics That Go. If you're looking for a reliable fabric store in Tucson, AZ, look no further. Contact us today.
Find quality bargains on some of our best fabric designs and materials! You will find rock bottom pricing for more than half the price.
Fabrics That Go Provides Everything from Fabric Supply to Upholstery
---
When you purchase fabrics for your springtime projects from us, you're guaranteed 100% quality textiles from the go-to locally-owned fabric shop in Arizona. We have a vast array of fabrics for drapery, upholstery, and pillows, or any project. Ask our experts about any design or functional aspects of your project, we provide FREE Quotes. 
Our expert upholsterers and seamstresses can take on any project – from reupholstery to custom drapery. Choose the style you want for your next project here at Fabrics That Go.
Need Inspiration? Follow us on Social Media!
Get Inspiration Our Projects
---
Thinking of giving your home or old furniture a facelift? Browse through some of our finished projects for inspiration on your next project!

Get Home Fabric Project Inspiration, Tips, & Fabrics That Go Updates!
---
Fabrics That Go loves to connect with fabric lovers all over the world! Subscribe to receive bi-monthly emails that highlight new fabric collections, home project ideas, decorating tips, and more!
We take pride in being part of your journey in designing your home, turning your vision into reality. From upholstery to drapery, and everything in between- we bring you Happiness By The Yard.
Let's Get Started!
Ready to redesign your home?  Fabrics That Go has over 10,000 bolts of fabric IN-STOCK to choose from, and can do quality custom upholstery  and custom drapery based on your needs and specifications. Outside of Arizona? Order online NOW for fabric shipped directly to your door!
Fabrics That Go – Tucson, AZ
We are happy to be Tucson's #1 Local Fabric Supplier, and would love to help you with any of your custom drapery, bedding, upholstery projects. Please feel free to contact us with any questions, we'd love to hear from you!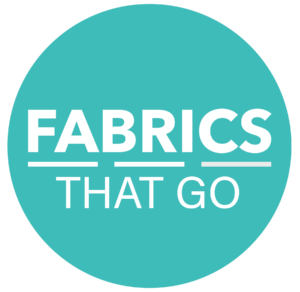 Do You Want to Learn How to Sew Custom Bedding, Drapery, & More?
If there is enough interest, Fabrics That Go is considering an adult sewing class where you can sew custom bed spreads, drapery, & more.
Please provide your information if you are interested in Adult Sewing Classes at Fabrics That Go.