Why You Need Authentic Southwestern Fabrics from Fabrics That Go
Fabrics That Go
If you're in need of Southwestern Fabrics, then there's no better place to go than Fabrics That Go. We have a vast array of Southwestern styles that will surely add that much-needed flair to any home. 
What are Southwestern Fabrics?
---
Southwestern fabrics are instantly recognizable for their bright and vibrant colors, with Old Western, Native American, and Guatemalan influences. Southwestern fabrics definitely add more color to your home, with nature-inspired patterns and geometric motifs.
Materials of Southwestern Fabrics
Southwestern fabrics are made from heavier material with robust textures that are usually woven or have that woven look. In short, not only are Southwestern fabrics beautiful to look at but they are also durable and will last for years.
Different Styles
You may think that Southwestern fabrics are all similar but they come in different tones and designs, often looking distinct from each other in more ways than one. 
Desert Tones

– Tones of Southwestern fabrics can be warm, perfectly fitting the Arizona climate. Accentuate your upholstery or drapery with shades of brown, red, and orange.

Bold Patterns

– Geometric patterns tend to stand out more but would still complement your home if you're looking for bold colors for decorative pieces.

Contemporary Fusion

– Images printed onto fabrics such as cacti, horses, and others make for that modern look, all while retaining the Southwestern feel that homeowners will appreciate.
Get Southwestern Fabrics at Fabrics That Go
Southwestern fabrics are among the most popular styles that people go for whenever they shop with us. With the wide variety of designs available, you're sure to find something that will fit your vision. Fabrics That Go only provides high quality Southwestern fabrics. Shop online, or come by our store! 
Helping You With Your Southwestern Fabric Project
---
The Tucson community trusts Fabrics That Go. With over 10,000 bolts of fabric, you're sure to find what you need. What's more is that we help you turn your vision into a reality. Just contact us and we'll help you with project ideas.
Get in touch with us for a quote.
Need Inspiration? Follow us on Social Media!
Shipping Fabrics to Your Door, For Your Next Project
---
Support a LOCAL company for your next project. If you have a project in mind and you need fabric to accomplish it, then you can count on Fabrics That Go.
Choose from a wide range of Southwestern designs, along with other styles, for upholstery, drapery, pillows, tablecloths and more. Shop Online at shop.fabricsthatgo.com and have your materials delivered. Contact us if you can't find what you're looking for, and we can send you some options that we have in stock, but may have not made it online yet.
Get in Touch: Free Quote & Consultation
---
If you have any questions about what materials & accessories you might need for your project, please contact us by filling out the following form or emailing jean@fabricsthatgo.com.
Thank you so much for supporting a local, family owned business. Our team at Fabrics That Go appreciates your business during this trying time.

Get Home Fabric Project Inspiration, Tips, & Fabrics That Go Updates!
---
Fabrics That Go loves to connect with fabric lovers all over the world! Subscribe to receive bi-monthly emails that highlight new fabric collections, home project ideas, decorating tips, and more!
We take pride in being part of your journey in designing your home, turning your vision into reality. From upholstery to drapery, and everything in between- we bring you Happiness By The Yard.
Let's Get Started!
Ready to redesign your home?  Fabrics That Go has over 10,000 bolts of fabric IN-STOCK to choose from, and can do quality custom upholstery  and custom drapery based on your needs and specifications. Outside of Arizona? Order online NOW for fabric shipped directly to your door!
Fabrics That Go – Tucson, AZ
We are happy to be Tucson's #1 Local Fabric Supplier, and would love to help you with any of your custom drapery, bedding, upholstery projects. Please feel free to contact us with any questions, we'd love to hear from you!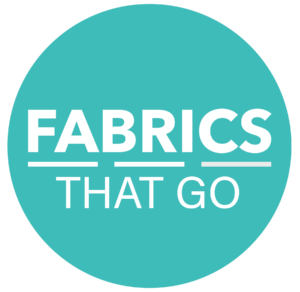 Do You Want to Learn How to Sew Custom Bedding, Drapery, & More?
If there is enough interest, Fabrics That Go is considering an adult sewing class where you can sew custom bed spreads, drapery, & more.
Please provide your information if you are interested in Adult Sewing Classes at Fabrics That Go.