Five Tips When Reupholstering Furniture
Fabrics That Go
Give Your Pieces a Much Needed Makeover
Upholstery can be a tricky process. Reupholstering pieces of furniture can actually get quite daunting if not done professionally since it involves a lot of time, precision and labor. For that much needed perspective, we've put together some tips to help get you on the right track.
Visualize How Reupholstering Will Affect the Whole Room
---
Imagine the finished product affecting the overall look of your living space. Reupholstering your furniture gives you the chance to enhance your space. Follow the existing theme in your home or create new ones; the possibilities are limitless!
Think About the Details
Furniture pieces can be taken to the next level with details such as tufting, buttons, piping, and more. The Reupholstery journey is a labor-intensive process and the quality of the details can make or break the whole project. Finding the suitable materials and the right people for the job is crucial to being able to get excellent results.
Take a Look at Fabric Options
If you're looking to reupholster indoor furniture, you should consider the patterns or solids that would work best to compliment your room. When it comes to outdoor furniture or high traffic areas, Sunbrella fabric may be your best choice for maximized wear/fade resistance, cleaniblility, and more. Fortunately, it's easy to choose from numerous styles of fabrics that you can simply pick from online or come into browse over 10,000 bolts of fabrics at Fabrics That Go in Tucson.
Considering the Costs
You may have old pieces of furniture lying in your attic or a precious antique or family heirloom that needs a bit of TLC to come back to life. You will have to decide if you want to simply replace the fabric, padding, wood, and more.
Costs will depend on the fabric, details, condition of piece and more. Learn more about calculating upholstery costs. 
Get Help from Experts
---
Taking on a reupholstery project is not an easy task. Unless you are simply reupholstering a chair cushion, it is recommended to advise with professionals before getting started. Note that you can always enlist the help of our experts who not only offer complete upholstery services but also help with ideas on how to go about your reupholstering project.
Making the decision to restore a precious piece, you should leave it to professionals that have experience with older pieces, with a portfolio you can browse to verify their quality of work. Experienced upholsters are better able to get your vision into reality, especially when the difficulty to complete yourself is out of your scope of ability.
Get Premium-Quality Reupholstering at Fabrics That Go
Fabrics That Go helps you with your reupholstering project by offering quality fabrics, as well as ideas on how you can go about reupholstering that piece of furniture, whether it's an antique or something on the newer side. The community trusts Fabrics That Go with upholstery, drapery, and other fabric projects that need the help of experts in the field.
Get a quote from us or visit our online shop now.
Need Inspiration? Follow us on Social Media!
Shipping Fabrics For Your Next Project, While You Stay Home
---
Support a LOCAL company for your next project. It's advisable at this time to adhere to social distancing and stay at home, but if you have a project in mind and you need fabric to accomplish it, then you can count on Fabrics That Go.
Choose from a wide range of Southwestern designs, along with other styles, for upholstery, drapery, pillows, tablecloths and more. Shop Online at shop.fabricsthatgo.com and have your materials delivered.
Get in Touch
---
If you have any questions about what materials & accessories you might need for your project, please contact us by filling out the following form or emailing jean@fabricsthatgo.com.
Thank you so much for supporting a local, family owned business. Our team at Fabrics That Go appreciates your business during this trying time.

Get Home Fabric Project Inspiration, Tips, & Fabrics That Go Updates!
---
Fabrics That Go loves to connect with fabric lovers all over the world! Subscribe to receive bi-monthly emails that highlight new fabric collections, home project ideas, decorating tips, and more!
We take pride in being part of your journey in designing your home, turning your vision into reality. From upholstery to drapery, and everything in between- we bring you Happiness By The Yard.
Let's Get Started!
Ready to redesign your home?  Fabrics That Go has over 10,000 bolts of fabric IN-STOCK to choose from, and can do quality custom upholstery  and custom drapery based on your needs and specifications. Outside of Arizona? Order online NOW for fabric shipped directly to your door!
Fabrics That Go – Tucson, AZ
We are happy to be Tucson's #1 Local Fabric Supplier, and would love to help you with any of your custom drapery, bedding, upholstery projects. Please feel free to contact us with any questions, we'd love to hear from you!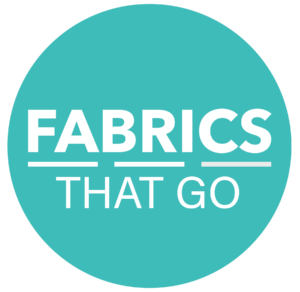 Do You Want to Learn How to Sew Custom Bedding, Drapery, & More?
If there is enough interest, Fabrics That Go is considering an adult sewing class where you can sew custom bed spreads, drapery, & more.
Please provide your information if you are interested in Adult Sewing Classes at Fabrics That Go.