Bring Life Into Your Home with Authentic Southwestern Fabrics
Fabrics That Go
Southwestern Fabric Trends
Southwestern fabrics have certainly been on the rise recently and there's no signs of this trend slowing down. The appeal of the uniqueness of Southwestern fabrics has spread worldwide, as they work well with upholstery, drapery, decorative items, and more. Take a look at this short guide on using quality Southwestern fabrics.
Southwestern Patterns
Perhaps what stands out the most with Southwestern fabrics are the incredible patterns, be it cactus or desert designs, Guatemalan, or intricate motifs. These patterns work boldly with drapes and table runners. They also work well with dining/accent chairs and other pieces of upholstery.
Warm Tones and Decorative Features
Authentic Southwestern fabrics are also distinct for their warm tones and colors that go from being subtle enough to match a room style to being the center of attention. As the colors are used to represent nature and a time rich in Arizona's history, it can be a little difficult to mix and match them. Fortunately, you can experiment with using shades of a chosen color, red for example, for wooden furniture such as benches and chairs, while adding accents of blue tones to make them pop out. Southwestern fabrics also work perfectly with decorative pieces such as lampshades, pillows, pottery, and more.
Southwestern Fabrics in Contemporary Designs
Although the different patterns and colors exemplify the history and tradition of the American Southwestern Regions, you can find many designers and homeowners utilizing these in contemporary designs. Southwestern home fabric pieces can act as balance for contemporary homes that are too neutral or need a pop of personality. Mixing Southwestern fabrics with contemporary designs create a contrast between the old and the new. Such a hybrid will work perfectly with rugs, carpets, and more, favoring living spaces with a more minimalist setup. These designs certainly add plenty of elegance to your home.
Southwestern Design for Indoor & Outdoor Spaces
Give your home or business that unique Southwestern appeal. Whether it's for furniture or decorative pieces, Southwestern fabrics certainly work well with many designs and will give your entertainment space that much-needed personality. While showcasing Southwestern fabrics indoors, you can also bring the design out into your backyard.
Fabrics That Go offers a vast collection of Sunbrella, premium outdoor fabrics. These are great for outdoor cushions, drapery, slipcovers and more!
Purchase Southwestern Fabrics
At Fabrics That Go, you will find a vast selection of fabrics to help you get started with your next home project. Choose between different Southwestern patterns & colors that add flair to your space. If you're unsure with which ones work best, contact Fabrics That Go expert upholsterers and designers for ideas and inspiration. We offer free quotes on what fabric works best for your project, how much it costs, and also the cost for our experts to fully complete your project at Fabrics That Go.
Shop online today for top-quality Southwestern Fabrics. We have over 10,000 bolts of fabric in-stock, and if you can't find what you're looking for contact us for recommendations of fabrics that we may not have available online. Products added daily!
Everything Needed at Fabrics That Go
Pick from any style you want for your chair upholstery from our vast collection of fabrics, with over 10,000 bolts of fabrics available for you to choose from. We complete your project from start to finish, get a free quote to learn how much materials would cost and how much it would be for us to upholster. We also custom make furniture, where customers choose their silhouette and fabric.
Fabrics That Go provides premium-quality fabrics and materials for the project that you have in mind, whether you're looking to reupholster or create table runners, tablecloths, or window treatment. 
If any project proves too difficult to DIY, get a quote to find out how much it would cost us to complete.
Shop now and choose from our vast selection of fabrics. If you can't find what you need online, contact us for recommendations we can send that may not be available online yet. Shipping and pickup available.
Buy Fabric for DIY Masks
Fabrics for Making Masks at Fabrics That Go
---
If you're making your own masks, you will need suitable fabrics to help protect yourself from the novel coronavirus.
We recommend 100% cotton fabrics for making cloth masks. Please do not hesitate to contact us for personalized recommendations.  Check out our selection in store, online for curbside pick up or shipping.
Find quality bargains on some of our best fabric designs and materials! You will find rock bottom pricing for more than half the price.
We Are Accepting Upholstery Projects
---
If you have an upholstery or drapery project that is more complicated, submit your project details and photos for a FREE Quote. Our experts will provide you with the cost of materials, and also labor costs for our team to complete your project. Local delivery and pickup available.
For your safety and ours, Masks & Gloves are worn along with social distancing practices for pickups/deliveries.
Need Inspiration? Follow us on Social Media!
Shipping Fabrics For Your Next Project, While You Stay Home
---
Support a LOCAL company for your next project. It's advisable at this time to adhere to social distancing and stay at home, but if you have a project in mind and you need fabric to accomplish it, then you can count on Fabrics That Go.
Choose from a wide range of Southwestern designs, along with other styles, for upholstery, drapery, pillows, tablecloths and more. Shop Online at shop.fabricsthatgo.com and have your materials delivered.
Get in Touch
---
If you have any questions about what materials & accessories you might need for your project, please contact us by filling out the following form.
Thank you so much for supporting a local, family owned business. Our team at Fabrics That Go appreciates your business during this trying time.

Get Home Fabric Project Inspiration, Tips, & Fabrics That Go Updates!
---
Fabrics That Go loves to connect with fabric lovers all over the world! Subscribe to receive bi-monthly emails that highlight new fabric collections, home project ideas, decorating tips, and more!
We take pride in being part of your journey in designing your home, turning your vision into reality. From upholstery to drapery, and everything in between- we bring you Happiness By The Yard.
Let's Get Started!
Ready to redesign your home?  Fabrics That Go has over 10,000 bolts of fabric IN-STOCK to choose from, and can do quality custom upholstery  and custom drapery based on your needs and specifications. Outside of Arizona? Order online NOW for fabric shipped directly to your door!
Fabrics That Go – Tucson, AZ
We are happy to be Tucson's #1 Local Fabric Supplier, and would love to help you with any of your custom drapery, bedding, upholstery projects. Please feel free to contact us with any questions, we'd love to hear from you!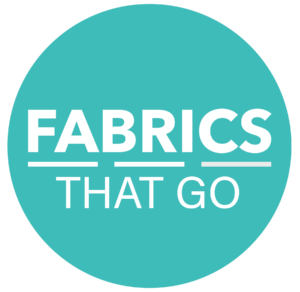 Do You Want to Learn How to Sew Custom Bedding, Drapery, & More?
If there is enough interest, Fabrics That Go is considering an adult sewing class where you can sew custom bed spreads, drapery, & more.
Please provide your information if you are interested in Adult Sewing Classes at Fabrics That Go.