Claire's 92nd Birthday Sale
Fabrics That Go
Happy Birthday Claire!
Come in and celebrate our beloved Claire and her 92 years! Come in Friday, July 12th or Saturday, July 13th for cake & lemonade.
We will be showcasing fabric on upholstered furniture available for purchase. 
Celebrating 74 Years of Inspiring Home Decor. Get up to 70% off on all fabrics.
Claire, the founder of Fabrics That Go, has contributed so much to the Tucson community as one of its most active local business owners. Come see us as we celebrate Claire's birthday with a massive sale from July 12-16, 2019. 
*Sale In Store Only
Our History
The story of Fabrics That Go is really a history lesson of the American textile industry. Robert Grunstein, Claire's son who has since taken over the day to day operations likes to tell the family history in the fabric industry. "My grandfather started the business in 1945 in Paterson, NJ, which was silk capital of the US, after doing the fabric business for 74 years on the East Coast, my parents thought to retire to Tucson."
Claire remembers the first night she arrived by plane in Tucson with her late husband Herman. "I've never been farther than Pennsylvania so it was big," Claire recounts. "We landed at night, the city was sparkling. I've never seen anything like it. We woke up in the morning and I looked at my husband and said I think I'm in paradise, what am I doing in New Jersey I have to move here!"
Although their intention was to retire, after a month of playing tennis they opened a small hobby store together in Tucson by the late 70s. Claire remembered it "like a closet, this was even smaller than our store in New Jersey." Before long they moved to a larger store and landed at the store they've occupied for the last couple decades on 3105 N Campbell.
Today, Fabrics That Go carries the largest selection of Southwest fabrics in the world and attract customers from throughout the US, Canada, Mexico and as far away as Italy for their unique home fabrics. Despite being in the same industry for her whole life, Claire and her son Robert still has a strong passion for the business, and it starts with their customers. "I love the customer's," Claire said, "I want them to be happy, because when you're fixing up your house and you are making it pretty, it should make you happy."
Claire, and the rest of the staff will be on hand this Friday & Saturday from 10 am – 5 pm with cake, lemonade and a smile to help customers find their perfect fabrics. If you are lucky, you can catch one of her many fabric stories from the last 22 years on Campbell Avenue. Even if you can't make it in on Friday or Saturday, stop by soon, there is a good chance you can see Claire when you visit, she still works around 30 hours a week even as she turns 92 this year.
Fabrics That Go, a Family Owned, Local Business
Keeping family values in mind, we back to the community whenever we can. Fabrics That Go supports local culture by showcasing the largest collection of Southwestern fabric, and by providing quality craftsmanship with upholstery and drapery services.
To learn more about Fabrics That Go's place in American textile history read about Our Humble Beginnings.
Share our love for Fabric
Looking for ways to improve your home with fabric? We regularly update our blog with tips, tricks, and guides to help you transform your home.
Fabrics That Go – Tucson, AZ
We are happy to be Tucson's #1 Local Fabric Supplier, and would love to help you with any of your custom drapery, bedding, upholstery projects. Please feel free to contact us with any questions, we'd love to hear from you!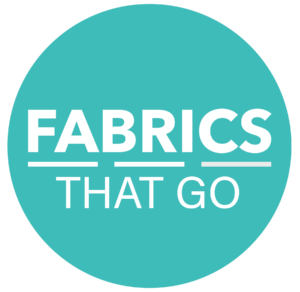 Do You Want to Learn How to Sew Custom Bedding, Drapery, & More?
If there is enough interest, Fabrics That Go is considering an adult sewing class where you can sew custom bed spreads, drapery, & more.
Please provide your information if you are interested in Adult Sewing Classes at Fabrics That Go.