Tucson's Best Kept Secret: Claire's Rare Button Collection
Fabrics That Go
What You Need to Know About Claire's Rare Button Collection
If you're new to Tucson or visiting, then this is definitely the perfect opportunity for you to learn about Claire's rare button collection at Fabrics That Go, which owner Claire Grunstein has collected throughout the years. They're perfect for any fabric projects, whether you're reviving an antique piece, clothing, or creating something new.
Who is Claire?
At 93 years of age and with over 70 years of experience, everyone looks to Fabrics That Go owner Claire Grunstein when it comes to the fabrics and design industry. She still works at the store to this day, helping customers fulfill their home project dreams and constantly coming up with creative products from reversible jackets to unique and original upholstery fabric designs.
Today, Fabrics That Go continues to carry the largest selection of Southwest fabrics in the world and attracts customers from all throughout the US, Canada, Mexico, and as far away as Italy for their unique home fabrics.
The Collection
Claire has always been passionate about collecting buttons throughout the years, to the point where she now has an incredibly large collection of rare buttons. They certainly showcase a diverse variety of beauty- special due to their rarity, many of antique quality and made with superb craftsmanship.
Ask our staff to show you her incredible button collection and they will take you back to browse through the thousands (seemingly endless). Many are one-of-a-kind and cannot be found anywhere else in the world.
Buy Rare Buttons Today
All of these buttons are available for purchase. Claire has ventured the world to share the beauty of different cultures and traditions through unique buttons. Buttons of all shapes and sizes for many different projects.
Buttons for Amazing Projects
These rare buttons are simply perfect for when you have a home or DIY project in mind. You can even use them for clothing, where you can easily flaunt them about, walking down the street knowing no one else has them. You may also use these rare buttons for drapery and upholstery, adding accents to furniture or tufting, complementing premium fabrics from Fabrics That Go.
Add timeless artistry to your home by using rare buttons that Claire has accumulated throughout the years. There are simply no limits to how you use these buttons. You can certainly get inspiration or ideas from us here at Fabrics That Go, where we can consult and help you with how you can use Claire's rare button collection with designs that work for your home. We can even provide a free quote for us to complete your project ideas.
The Perfect Fabrics
Our selection of over 10,000 bolts of fabric will help complement the unique buttons from Fabrics That Go, giving you an idea on how you can accentuate the look of your furniture and other decorative items.
Purchase Fabrics Online
Claire's special button collection is a local attraction, where customers must come into the store to admire or purchase. Browse our online store to order fabrics to be shipped directly to your door, or contact us with what you are looking for and we can provide recommendations. 
Now is definitely the perfect time to start a fun home project. Come in and browse Claire's Rare Button Collection and talk to us about your ideas, so that we can help make them a reality.
Contact us for ideas on your project today or get a free quote on any fabric project you might have in mind.
Everything Needed at Fabrics That Go
Pick from any style you want for your chair upholstery from our vast collection of fabrics, with over 10,000 bolts of fabrics available for you to choose from. We complete your project from start to finish, get a free quote to learn how much materials would cost and how much it would be for us to upholster. We also custom make furniture, where customers choose their silhouette and fabric.
Fabrics That Go provides premium-quality fabrics and materials for the project that you have in mind, whether you're looking to reupholster or create table runners, tablecloths, or window treatment. 
If any project proves too difficult to DIY, get a quote to find out how much it would cost us to complete.
Shop now and choose from our vast selection of fabrics. If you can't find what you need online, contact us for recommendations we can send that may not be available online yet. Shipping and pickup available.
Buy Fabric for DIY Masks
Fabrics for Making Masks at Fabrics That Go
---
If you're making your own masks, you will need suitable fabrics to help protect yourself from the novel coronavirus.
We recommend 100% cotton fabrics for making cloth masks. Please do not hesitate to contact us for personalized recommendations.  Check out our selection in store, online for curbside pick up or shipping.
Need Inspiration? Follow us on Social Media!
Shipping Fabrics For Your Next Project, While You Stay Home
---
Support a LOCAL company for your next project. It's advisable at this time to adhere to social distancing and stay at home, but if you have a project in mind and you need fabric to accomplish it, then you can count on Fabrics That Go.
Choose from a wide range of Southwestern designs, along with other styles, for upholstery, drapery, pillows, tablecloths and more. Shop Online at shop.fabricsthatgo.com and have your materials delivered.
Get in Touch
---
If you have any questions about what materials & accessories you might need for your project, please contact us by filling out the following form.
Thank you so much for supporting a local, family owned business. Our team at Fabrics That Go appreciates your business during this trying time.

Get Home Fabric Project Inspiration, Tips, & Fabrics That Go Updates!
---
Fabrics That Go loves to connect with fabric lovers all over the world! Subscribe to receive bi-monthly emails that highlight new fabric collections, home project ideas, decorating tips, and more!
We take pride in being part of your journey in designing your home, turning your vision into reality. From upholstery to drapery, and everything in between- we bring you Happiness By The Yard.
Let's Get Started!
Ready to redesign your home?  Fabrics That Go has over 10,000 bolts of fabric IN-STOCK to choose from, and can do quality custom upholstery  and custom drapery based on your needs and specifications. Outside of Arizona? Order online NOW for fabric shipped directly to your door!
Fabrics That Go – Tucson, AZ
We are happy to be Tucson's #1 Local Fabric Supplier, and would love to help you with any of your custom drapery, bedding, upholstery projects. Please feel free to contact us with any questions, we'd love to hear from you!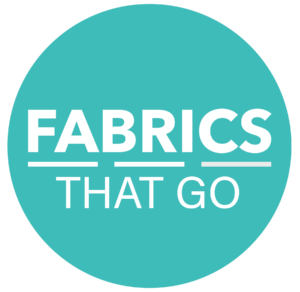 Do You Want to Learn How to Sew Custom Bedding, Drapery, & More?
If there is enough interest, Fabrics That Go is considering an adult sewing class where you can sew custom bed spreads, drapery, & more.
Please provide your information if you are interested in Adult Sewing Classes at Fabrics That Go.