Claire's Custom Made Jackets
Fabrics That Go
Fabrics That Go, Matron of Honor, Claire Grunstein, has been in the fabric business for decades. Her hard work is not the only thing that keeps the company going. Her creative genius and her dedication to expert craftsmanship are also company assets. She has cleverly designed a pattern for Reversible Jackets.  Over fifty fabric patterns available, which are available for sale at the store, with select patterns available online.
Two Looks in One
---
Claire chooses light, reversible fabrics for the jackets, so you can have two looks in one! They're designed so that the stitches are tight and the seams are invisible on either side.
These easy-to-wash jackets are fitted with gorgeous antique buttons on either side.
Styling Tips
---
Thinking about getting one of these jackets for yourself? Imagine wearing them with your favorite winter clothes! Claire's custom-made jackets usually have vibrant patterns, so they're best paired with plain tops or dresses. 
They're also lightweight, so they're perfect for when you want to wear layers of clothing.
We have various items that can only be found in-store! We've got everything from rare buttons to fabric accessories and supplies.
About Claire Grunstein 
Claire Grunstein, founder of Fabrics That Go, is one of the oldest local active business owners in Tucson, AZ, being over 90 years old and still working at the store. She was recently named 'Woman Entrepreneur of the Year' by the National Ready Set Go Foundation. She's the genius designer behind the popular fabric, Wild/Spice Mango.
Get Inspiration Our Projects
---
Thinking of giving your home or old furniture a facelift? Browse through some of our finished projects for inspiration on your next project!

Get Home Fabric Project Inspiration, Tips, & Fabrics That Go Updates!
---
Fabrics That Go loves to connect with fabric lovers all over the world! Subscribe to receive bi-monthly emails that highlight new fabric collections, home project ideas, decorating tips, and more!
We take pride in being part of your journey in designing your home, turning your vision into reality. From upholstery to drapery, and everything in between- we bring you Happiness By The Yard.
Let's Get Started!
Ready to redesign your home?  Fabrics That Go has over 10,000 bolts of fabric IN-STOCK to choose from, and can do quality custom upholstery  and custom drapery based on your needs and specifications. Outside of Arizona? Order online NOW for fabric shipped directly to your door!
Fabrics That Go – Tucson, AZ
We are happy to be Tucson's #1 Local Fabric Supplier, and would love to help you with any of your custom drapery, bedding, upholstery projects. Please feel free to contact us with any questions, we'd love to hear from you!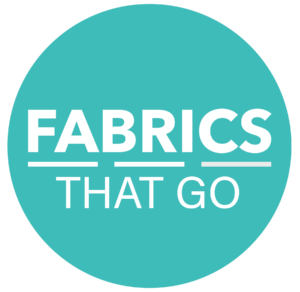 Do You Want to Learn How to Sew Custom Bedding, Drapery, & More?
If there is enough interest, Fabrics That Go is considering an adult sewing class where you can sew custom bed spreads, drapery, & more.
Please provide your information if you are interested in Adult Sewing Classes at Fabrics That Go.