Spend More Time in Your Backyard: Outdoor Upholstery, Drapery, Pillows, and More with Sunbrella
Fabrics That Go
The Ideal Outdoor Fabrics for your Backyard in Arizona
As the spring weather brings us outside to enjoy the fresh air, it's time to consider your backyard. Your outdoor entertainment area can make all the difference in the comfort level you and your guests experience. Do you need to replace damaged seat cushions, add drapery, or add an umbrella or hammock?
Choosing the right fabrics for the outdoors is important, especially with prolonged exposure to the elements. The easier they are to clean and the more durable they are, then the better. 
Consider outdoor furniture, where you and your guests spend a lot of time. It's time to ditch the cheap upholstery fabric in cushions that fades and rips with regular use. It's time to invest in quality fabrics that are durable with beautiful designs that showcase your personal style.
Outdoor Fabrics Need to be Resistant to Wear & Tear
A rub test is a method of assessing the durability (or 'abrasion resistance') of a fabric. 
During the test, a programmed machine rubs the fabric vigorously. When the fabric begins to show wear and tear, the test finishes by counting the number of 'rubs' up to that point. This gives a textile a 'rub count'. 
Manufacturers typically rely on rub tests to determine what function a fabric should take. Textiles with low rub counts are usually used for decorative functions, such as pillows and throws. High rub counts, however, are more appropriate for furniture (especially outdoor), such as chairs and sofas
Outdoor Fabrics Need to be Resistant to Fading
Exposure to the sun, rain, or any of the elements will also cause discoloration to your outdoor furniture. Fortunately, there's fabric created specially to withstand fading and overall wear. 
Sunbrella Fabrics
Sunbrella is the most reliable, high-quality outdoor fabric in the market. Being water-resistant, easy to clean, fade-resistant, and mildew-resistant, among other features, Sunbrella is our personal recommendation for anything outdoors (or even high traffic indoor pieces).
Sunbrella fabric is perfect for:
Outdoor Furniture

Outdoor Drapery

Outdoor Decorative Pillows

Grill covers

Umbrellas

Hammocks

so much more!
Check out some of our featured Sunbrella fabrics:
Don't see what you're looking for online? Contact us for recommendations and we can provide you with patterns that haven't made it online just yet.
Shop for Outdoor Fabrics at Fabrics That Go
Fabrics That Go has a wide variety of Sunbrella fabrics available for you to use if you have a project in mind for your backyard. You can easily shop for fabrics online with our vast array of Sunbrella fabric styles that are great for outdoor furniture, drapery, decorative pillows, and more so you can spend more time in your backyard.
Shop online now.
Full Service Upholstery & Drapery (or Any Project) Services
Interested in Our Team Bringing Your Vision to Reality? Let us know your project details and we can provide a free consultation:
How much fabric you'll need

Cost of Needed Materials

Shipping Costs

Labor Costs for Us to Complete the Project (Local Tucson, AZ Service)
Buy Fabric for DIY Masks
Fabrics for Making Masks at Fabrics That Go
---
If you're making your own masks, you will need suitable fabrics to help protect yourself from the novel coronavirus.
We recommend 100% cotton fabrics for making cloth masks. Please do not hesitate to contact us for personalized recommendations.  Check out our selection in store, online for curbside pick up or shipping.
Find quality bargains on some of our best fabric designs and materials! You will find rock bottom pricing for more than half the price.
We Are Accepting Upholstery Projects
---
If you have an upholstery or drapery project that is more complicated, submit your project details and photos for a FREE Quote. Our experts will provide you with the cost of materials, and also labor costs for our team to complete your project. Local delivery and pickup available.
For your safety and ours, Masks & Gloves are worn along with social distancing practices for pickups/deliveries.
Need Inspiration? Follow us on Social Media!
Shipping Fabrics For Your Next Project, While You Stay Home
---
Support a LOCAL company for your next project. It's advisable at this time to adhere to social distancing and stay at home, but if you have a project in mind and you need fabric to accomplish it, then you can count on Fabrics That Go.
Choose from a wide range of Southwestern designs, along with other styles, for upholstery, drapery, pillows, tablecloths and more. Shop Online at shop.fabricsthatgo.com and have your materials delivered.
Get in Touch
---
If you have any questions about what materials & accessories you might need for your project, please contact us by filling out the following form or emailing jean@fabricsthatgo.com.
Thank you so much for supporting a local, family owned business. Our team at Fabrics That Go appreciates your business during this trying time.

Get Home Fabric Project Inspiration, Tips, & Fabrics That Go Updates!
---
Fabrics That Go loves to connect with fabric lovers all over the world! Subscribe to receive bi-monthly emails that highlight new fabric collections, home project ideas, decorating tips, and more!
We take pride in being part of your journey in designing your home, turning your vision into reality. From upholstery to drapery, and everything in between- we bring you Happiness By The Yard.
Let's Get Started!
Ready to redesign your home?  Fabrics That Go has over 10,000 bolts of fabric IN-STOCK to choose from, and can do quality custom upholstery  and custom drapery based on your needs and specifications. Outside of Arizona? Order online NOW for fabric shipped directly to your door!
Fabrics That Go – Tucson, AZ
We are happy to be Tucson's #1 Local Fabric Supplier, and would love to help you with any of your custom drapery, bedding, upholstery projects. Please feel free to contact us with any questions, we'd love to hear from you!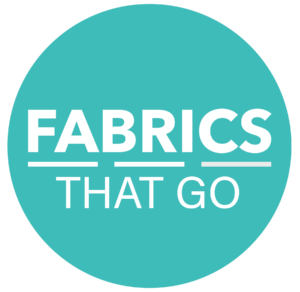 Do You Want to Learn How to Sew Custom Bedding, Drapery, & More?
If there is enough interest, Fabrics That Go is considering an adult sewing class where you can sew custom bed spreads, drapery, & more.
Please provide your information if you are interested in Adult Sewing Classes at Fabrics That Go.