Why Sunbrella is Perfect for Indoor or Outdoor Upholstery and Drapery
Fabrics That Go
In the fall months, there is nothing better than sitting in your patio, enjoying the fresh air, or cozying up indoors while enjoying a hot drink. You wouldn't want to spoil moments like this with scratchy seats and dull drapery.
Choosing a good fabric for indoor or outdoor use is the key to being comfortable in any part of your home. Sunbrella is a versatile fabric that does just that. Here are the reasons why we love Sunbrella, and so should you!
Easy to clean
---
Outdoor parties are expected to get your furniture some stains. With Sunbrella, there's no reason to cry over spilled wine. Sunbrella fabrics are made of a plastic substance called acrylic. It is less absorbent than cloth which makes it easier to clean and does not leave permanent stains. Check Sunbrella's stain chart to remove that unwanted dirt efficiently.
Quality Drapery Services in Tucson, AZ
---
Want to revamp your patio with outdoor drapery? Drop by our store at 3105 N Campbell Ave., and browse thousands of outdoor-grade fabric. You'll be sure to find one that's right for you. Click the button below to upload photos of your project and get a FREE QUOTE today.
More Comfortable
---
Sunbrella is great for a lot of things – grill covers, awnings, slipcovers. But the best use for this fabric is for cushions, pillows, couches, and chairs. In short, it's made for comfort. It is made with acrylic fabric that has a softer feel than other outdoor fabrics.
Long-Lasting 
---
The most important factor when it comes to upholstered furniture whether for indoor or outdoor use, is durability. Sunbrella fabrics are resistant to water, stains, and fading. It's mold and mildew proof so it's perfect for places with high humidity. These fabrics are also UV resistant making it exceptional in color retention.
Wide Selection for Any Style
---
What else can brighten your living space other than beautiful patterns or colors that match every room in your home?  Sunbrella has a massive collection of 3,000 designs, so you're sure to find one that complements your taste.
We offer custom upholstery services for indoor and outdoor furniture using Sunbrella Fabrics. You can get any fabric in our Sunbrella collection in as little as two days.
Have a project you'd like us to work on? Give us a call at (520) 881-4444 or upload photos of your project for a free quote.
Inspiration Our Projects
---
Thinking of giving your home or old furniture a facelift? Browse through some of our finished projects for inspiration!

Get Home Fabric Project Inspiration, Tips, & Fabrics That Go Updates!
---
Fabrics That Go loves to connect with fabric lovers all over the world! Subscribe to receive bi-monthly emails that highlight new fabric collections, home project ideas, decorating tips, and more!
We take pride in being part of your journey in designing your home, turning your vision into reality. From upholstery to drapery, and everything in between- we bring you Happiness By The Yard.
Let's Get Started!
Ready to redesign your home?  Fabrics That Go has over 10,000 bolts of fabric IN-STOCK to choose from, and can do quality custom upholstery  and custom drapery based on your needs and specifications. Outside of Arizona? Order online NOW for fabric shipped directly to your door!
Fabrics That Go – Tucson, AZ
We are happy to be Tucson's #1 Local Fabric Supplier, and would love to help you with any of your custom drapery, bedding, upholstery projects. Please feel free to contact us with any questions, we'd love to hear from you!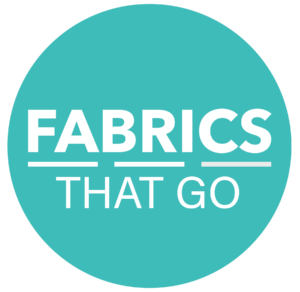 Do You Want to Learn How to Sew Custom Bedding, Drapery, & More?
If there is enough interest, Fabrics That Go is considering an adult sewing class where you can sew custom bed spreads, drapery, & more.
Please provide your information if you are interested in Adult Sewing Classes at Fabrics That Go.