Upholstering Your Headboard
Fabrics That Go
As the year-end draws near, it's time to look around your bedroom and see what needs to change. Small changes like using different color schemes for sheets and blankets, and using patterned pillowcases are great to start with. However, if you want to transform your bedroom, a big project like upholstering your headboard is something you should consider. Here are some tips on how to design your upholstered headboard:
Use Bold Colors
---
Most rooms are painted with lighter colors. This is why adding deeper colors wouldn't hurt. Use bold statement colors like royal blue, bright red, lime, pink, or even purple! This will help create a focal point in your bedroom. Make sure to use complementary colors for the sheets and pillowcases.
Use Patterns
---
When people think of upholstered headboards, the first thing that comes to mind is plain fabric. While most headboards use plain fabrics, patterned fabric is a great option if you want to add a little personality to your room. Patterns or prints like vintage, contemporary, southwestern, or floral, are all perfect for upholstered headboards. Just make sure to choose a color scheme that works with the rest of your bedroom
Not sure what kind of fabric to choose? Our helpful staff can help you pick! Head over to our store at 3105 N Campbell Ave., Tucson and choose from over 10,000 bolts of fabric!
Add Decorative Accessories
---
Want to add something more to your upholstered headboard? Adding some accessories like decorative nails, trims, and tufted buttons can tie the look together. You can have them in contrasting or complementary colors. You can choose to have the same color as the upholstery. The sky's the limit when it comes to choosing headboard accessories. 
Work with Expert Craftsmen
---
Headboards can be incorporated into many bed types. You can have them attached to the wall, or made into pillows for your comfort and adjustment. Let expert craftsmen do the work for you! All you need to do is to describe your vision and let them work their magic.
Quality Upholstery Services in Tucson, AZ
---
Need custom furniture or an old one reupholstered? Drop by our store at 3105 N Campbell Ave., and browse thousands of indoor and outdoor upholstery-grade fabric. You'll be sure to find one that's right for you. Click the button below to upload photos of your project and get a FREE QUOTE today.
Inspiration Our Projects
---
Thinking of giving your home or old furniture a facelift? Browse through some of our finished projects for inspiration!

Get Home Fabric Project Inspiration, Tips, & Fabrics That Go Updates!
---
Fabrics That Go loves to connect with fabric lovers all over the world! Subscribe to receive bi-monthly emails that highlight new fabric collections, home project ideas, decorating tips, and more!
We take pride in being part of your journey in designing your home, turning your vision into reality. From upholstery to drapery, and everything in between- we bring you Happiness By The Yard.
Let's Get Started!
Ready to redesign your home?  Fabrics That Go has over 10,000 bolts of fabric IN-STOCK to choose from, and can do quality custom upholstery  and custom drapery based on your needs and specifications. Outside of Arizona? Order online NOW for fabric shipped directly to your door!
Fabrics That Go – Tucson, AZ
We are happy to be Tucson's #1 Local Fabric Supplier, and would love to help you with any of your custom drapery, bedding, upholstery projects. Please feel free to contact us with any questions, we'd love to hear from you!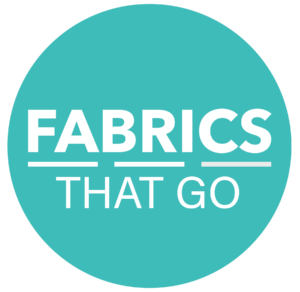 Do You Want to Learn How to Sew Custom Bedding, Drapery, & More?
If there is enough interest, Fabrics That Go is considering an adult sewing class where you can sew custom bed spreads, drapery, & more.
Please provide your information if you are interested in Adult Sewing Classes at Fabrics That Go.