Revitalizing Your Home for the Holidays
Fabrics That Go
November marks the start of the year-end holiday season. In the next month or so, out-of-town guests will be arriving. First comes Thanksgiving, the next Black Friday – and the next thing you know, it's already December! Homes will be lively once friends and relatives arrive, and you only have about two more weeks to prepare before the first big holiday. How do you revitalize your home for the holiday season? Here are a few tips.
Start Fresh
---
Before you even think of decorating, think about the spaces that need to be cleaned up. Is your living room cluttered? Does your kitchen need deep cleaning? Start with decluttering each room in your house. Keep the things that you don't need in storage or give them away. Once you've decluttered, you can start cleaning. Vacuum carpets, clean your windows, replace old drapery and sheets from guest rooms, and so on.
Create a Holiday Haven
---
So what comes after cleaning? Now that you've stripped your rooms of clutter, old sheets, and drapery, it's time to start turning your home into a holiday haven! Warm colors will make any space inviting, especially as the temperatures start to drop. Use passionate reds, autumn bronze, and warm greens akin to an evergreen bough. Adding festive throw pillows, table napkins, and runners for an easy seasonal look. Frame bright tapestry fabric as an art piece. To really live up to the holiday spirit, surprise dad with new arm covers and head cap for his favorite chair! 
Quality Upholstery Services in Tucson, AZ
---
Need custom furniture or an old one reupholstered? Drop by our store at 3105 N Campbell Ave., and browse thousands of indoor and outdoor upholstery-grade fabric. You'll be sure to find one that's right for you. Click the button below to upload photos of your project and get a FREE QUOTE today.
Use Functional Decoration
---
Using functional decor means you don't have to clutter your rooms with trinkets to add life to negative spaces. For example, if your living room is looking a little dull, you can always add accent blankets or rugs on top of your couch. Have an old Grandfather Chair? Bring a new look to that treasured family heirloom. Adding in some colorful throws on seating furniture also works. Not enough seating furniture for guests? Ottomans can be three things at once – a piece of decor, a seat, and extra storage. And of course, don't forget drapery. It's one of the biggest pieces of functional decor in a room, so make sure to pick the perfect fabric for it!
Improve Your Yard
---
You won't always be entertaining guests inside your home. Fall is the best time to enjoy some grilled food, or maybe some marshmallows by the fire. For this, you'll want to make sure you have enough outdoor seating. When adding seats in your patio or backyard, using outdoor, upholstery-grade fabric is best. They're easy to clean and durable, so you don't have to worry about it being used too often. Make sure your yard is free of debris, too. Take the time to rake those leaves and twigs, so they don't get blown around by the wind when you have guests over.
Inspiration Our Projects
---
Thinking of giving your home or old furniture a facelift? Browse through some of our finished projects for inspiration!

Get Home Fabric Project Inspiration, Tips, & Fabrics That Go Updates!
---
Fabrics That Go loves to connect with fabric lovers all over the world! Subscribe to receive bi-monthly emails that highlight new fabric collections, home project ideas, decorating tips, and more!
We take pride in being part of your journey in designing your home, turning your vision into reality. From upholstery to drapery, and everything in between- we bring you Happiness By The Yard.
Let's Get Started!
Ready to redesign your home?  Fabrics That Go has over 10,000 bolts of fabric IN-STOCK to choose from, and can do quality custom upholstery  and custom drapery based on your needs and specifications. Outside of Arizona? Order online NOW for fabric shipped directly to your door!
Fabrics That Go – Tucson, AZ
We are happy to be Tucson's #1 Local Fabric Supplier, and would love to help you with any of your custom drapery, bedding, upholstery projects. Please feel free to contact us with any questions, we'd love to hear from you!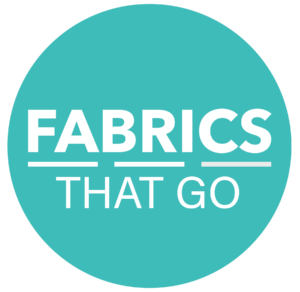 Do You Want to Learn How to Sew Custom Bedding, Drapery, & More?
If there is enough interest, Fabrics That Go is considering an adult sewing class where you can sew custom bed spreads, drapery, & more.
Please provide your information if you are interested in Adult Sewing Classes at Fabrics That Go.