How Much Does Upholstering a Couch Cost?
Fabrics That Go
Costs of Upholstery Projects in Tucson
From deciding on the right fabric to replacing the fillers, it goes without saying: There's a lot of work that goes into having your furniture upholstered. But how much will it all usually cost?
Why You Should Upholster Your Furniture
Upholstering furniture will help prolong its lifespan, allowing for generations of use. Another reason to upholster is to give that piece of furniture a fresh new look according to your style, perhaps to complement a new room or theme.
Fabrics That Go is Tucson's #1 trusted full service fabric upholstery providers for residential and commercial needs. Get a Free Online Quote today!
How Much Will Upholstering Cost You?
There are a number of factors that go into the final cost of a reupholstery project. The cost would depend on the intricacy of the project, what fabrics are to be used, among other factors.
There is a process when considering your specific project needs.
Once you go over the features and repairs that are needed with an expert from Fabrics That Go, pricing can be better established.
Where Should You Upholster Your Furniture?
It's essential that you choose an upholstery team that has a great track record and portfolio for quality.  The upholsterer you choose can make all the difference in turning your vision into reality. Whether you want to increase the lifespan of your furniture or you simply want a brand new look, getting expert help with upholstering from Fabrics That Go can definitely go a long way.
Want to estimate what your project might cost? You can easily get a FREE online quote with Fabrics That Go! 
Check out a few of our recent reupholstery projects, their costs and get inspired!
Renegade Blue Velvet Chair
Two-Tone Fabric and Sweet Marble Gray Wingback
Ottoman Box in Teal Vinyl and Fabric on the Side
Upholster Your Furniture at Fabrics That Go
At Fabrics That Go, we understand that taking on a reupholstery project is a major commitment. We take pride in providing the most precise craftsmanship and materials to bring any project to fruition. We know how important it is that you learn of the costs involved in upholstering furniture, which is why we offer free quotes and consultations online. Just send us the details of your project (works best with pictures) and we'll handle things from there, keeping you informed and updated all the way.
Come into Fabrics That Go
---
With over 10,000 bolts of amazing fabrics with different designs and themes, Fabrics That Go has all that you need and more. For fabric choices, visit our Tucson Store or check out our online shop.
Shipping Fabrics to Your Door, For Your Next Project
---
Support a LOCAL company for your next project. If you have a project in mind and you need fabric to accomplish it, then you can count on Fabrics That Go.
Choose from a wide range of Southwestern designs, along with other styles, for upholstery, drapery, pillows, tablecloths and more. Shop Online at shop.fabricsthatgo.com and have your materials delivered. Contact us if you can't find what you're looking for, and we can send you some options that we have in stock, but may have not made it online yet.
Get in Touch: Free Quote & Consultation
---
If you have any questions about what materials & accessories you might need for your project, please contact us by filling out the following form or emailing jean@fabricsthatgo.com.
Thank you so much for supporting a local, family owned business. Our team at Fabrics That Go appreciates your business during this trying time.

Get Home Fabric Project Inspiration, Tips, & Fabrics That Go Updates!
---
Fabrics That Go loves to connect with fabric lovers all over the world! Subscribe to receive bi-monthly emails that highlight new fabric collections, home project ideas, decorating tips, and more!
We take pride in being part of your journey in designing your home, turning your vision into reality. From upholstery to drapery, and everything in between- we bring you Happiness By The Yard.
Let's Get Started!
Ready to redesign your home?  Fabrics That Go has over 10,000 bolts of fabric IN-STOCK to choose from, and can do quality custom upholstery  and custom drapery based on your needs and specifications. Outside of Arizona? Order online NOW for fabric shipped directly to your door!
Fabrics That Go – Tucson, AZ
We are happy to be Tucson's #1 Local Fabric Supplier, and would love to help you with any of your custom drapery, bedding, upholstery projects. Please feel free to contact us with any questions, we'd love to hear from you!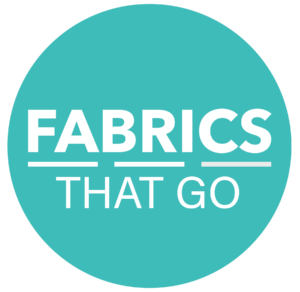 Do You Want to Learn How to Sew Custom Bedding, Drapery, & More?
If there is enough interest, Fabrics That Go is considering an adult sewing class where you can sew custom bed spreads, drapery, & more.
Please provide your information if you are interested in Adult Sewing Classes at Fabrics That Go.