Commercial Fabric Projects
Fabrics That Go
Running a successful business requires many things, but for many, the most important aspect is customer experience. Does your establishment reflect your desired aesthetic and meet your standards? It's important to keep your furniture and drapery maintained, along with making sure they work together in an appealing manner. If your business' drapery, chairs, booths, benches, etc look drab, faded, or outdated- we have solutions.
Upholstery for Any Establishment
---
One of the best ways to illustrate your establishment's style is through furniture upholstery and drapery. After all, most service establishments' frontline is customer comfort. Choose the best fabric that best represents your business' brand and identity.  High-grade upholstery is good for almost any type of business for example:
Doctor's office – Waiting room benches, chairs, washable medical table covers 

Pet Clinic – Pet beds, finisher stools 

Bars and restaurants – Booth seating, outdoor pads, bar chairs 

Inns and Hotel – Foyer furniture  
Why High-Grade Upholstery?
---
Using high-grade upholstery for your business has many benefits. For example, you don't have to deal with problems like warping, or fabric fraying.
High-grade upholstery fabrics are usually odor-releasing and stain resistant. They're also unlikely to shrink and warp or come apart at the seams.
You can get a high-density, antimicrobial foam that is firmer, and better for high traffic areas in your business establishment. 
Make sure to upholster your outdoor furniture in the most fade-resistant, durable fabric, Sunbrella. Fabrics That Go has a vast collection of
Sunbrella
Fabric available for purchase, and provides complete services for outdoor cushions, pillows, and drapery. Sunbrella is also popular to use indoors for its ease of cleaning.
Reupholstering Existing Furniture
---
You don't need to replace your business' furniture. One of the best things about reupholstering old furniture is that you get to keep a piece of your establishment's history while giving it a new look. It's also a great way to keep your business environmentally-friendly because you generate less waste by upcycling old items. 
Keeping existing seating, while updating furniture upholstery using new upholstery fabric with stylish & upgraded functionality, could be the rejuvenation your business needs. 
Custom Drapery Projects
Businesses need custom drapery for style and to block unwanted sun and heat. Choose the perfect fabric and Fabrics That Go handles the rest. Professional measurements, free quote on how much fabric you'll need & how much it will cost, plus installation (local).
Let's Get Started!
Ready to recreate or update your environment? We love working with Arizona businesses! Fabrics That Go has over 10,000 bolts of fabric IN-STOCK to choose from, and can do quality custom upholstery  and custom drapery based on your needs and specifications. Outside of Arizona? Order online NOW for fabric shipped directly to your door!
Fabrics That Go – Tucson, AZ
We are happy to be Tucson's #1 Local Fabric Supplier, and would love to help you with any of your custom drapery, bedding, upholstery projects. Please feel free to contact us with any questions, we'd love to hear from you!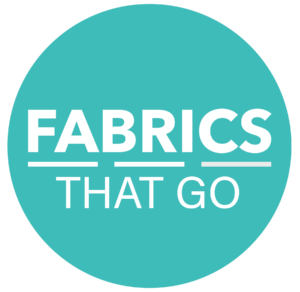 Do You Want to Learn How to Sew Custom Bedding, Drapery, & More?
If there is enough interest, Fabrics That Go is considering an adult sewing class where you can sew custom bed spreads, drapery, & more.
Please provide your information if you are interested in Adult Sewing Classes at Fabrics That Go.