Buy Masks NOW – COVID-19 Essentials
Get Ready-to-Wear Masks Made by Fabrics That Go
Fabrics That Go has sewers making masks. Choose from available masks: Solid or Print. Please include size.
Buy Fabric for DIY Masks
Fabrics for Making Masks at Fabrics That Go
---
If you're making your own masks, you will need suitable fabrics to help protect yourself from the novel coronavirus. 
We recommend 100% cotton fabrics for making cloth masks. Please do not hesitate to contact us for personalized recommendations.  Check out our selection in store, online for curbside pick up or shipping.
Are Homemade Cloth Masks Effective?
---
COVID-19 spreads through respiratory droplets produced when an infected person coughs, sneezes or talks. These droplets can land in the mouths or noses of people who are nearby or possibly be inhaled into the lungs. 
Medical masks are not readily available to the public, reserving stock for health workers who need them the most, as they're exposed to the virus in their line of work. With the limited number of masks due to the COVID-19 pandemic, a good number of people have resorted to making their own.
The CDC recommends wearing cloth face coverings in public settings where other social distancing measures are difficult to maintain (e.g., grocery stores and pharmacies), especially in areas of significant community-based transmission. 
Cloth masks can be fashioned from fabrics and can be a decent alternative to medical masks if you don't have access to them.
What Do I Need to Consider in a Homemade Mask?
---
First, the mask should have a snug fit. They should be secured with ties or elastic ear loops and should have multiple layers of fabrics to stop contaminated aerosol from penetrating it. More importantly, the mask shouldn't restrict breathing and should be able to be laundered or machine-dried without damaging it.
While homemade masks are not as effective as surgical or N95 masks, they can help in slowing the spread of infection. Are you looking to make your own masks? Here's how you can start.
The Materials
---
✓ A

suitable fabric

✓ Lightweight fusible interfacing

✓ ¼ inch elastic bands

✓ Needle and thread

✓ Scissors
Fabrics That Go can provide you with everything you need to complete your DIY Masks. Please Contact us for questions, to place an order, or a FREE Quote.
The right material for making masks
---
Take a look at some of the 45-inch cotton fabric we have available.
Please contact us for more information on availability.
Step 1:
Cut both fabric and interfacing to 12 x 9 inches
Step 2:
Iron interfacing to fabric
Step 3:
Fold fabric in half with interacting on the outside
Step 4:
Cut two pieces of elastic bands, 7 inches long each
Step 5:
Sew ¼ inch from the edge of the material, pinning them down and leaving a 2-inch gap in the center
Step 6:
On the material, sew the elastic bands on each corner inside the material, pinning to keep them in place
Step 7:
Mark locations of pleat lines and add pins on both sides
Step 8:
Create three pleats by folding them and sew around the entire perimeter of the mask to hold them in place, and then close the 2-inch gap
Lastly, be sure to test out your new mask to see if it's breathable. 
With homemade masks, you can help slow the infection, considering you're using the right fabrics.
Find quality bargains on some of our best fabric designs and materials! You will find rock bottom pricing for more than half the price.
Donating Masks
---
If you're making masks at home for yourself, family, and friends-  why not consider donating some to local Tucson frontliners?
Because homemade masks are not medical grade, they will not be worn by providers directly caring for COVID-19 patients, nor in procedure rooms or isolation areas, where only Banner-approved personal protective equipment must be worn.
How it Works
All comfort masks are welcome, but they must be made from a material that can be laundered. Donated masks will be professionally laundered by Prestige Cleaners, which has generously donated its services, before being given to staff and patients. After receiving a clean mask, staff and patients will be advised to personally launder their masks daily.
INSTRUCTIONS: Place homemade masks in a box, bag or container in your car's trunk labeled "homemade masks" with the quantity enclosed (no need to individually bag or package each mask). Please place any other items for donation in a separate box or container. Park, remain in your car with the windows up and call 520.694.9180 upon arrival. Pop your trunk and a staff member wearing gloves and a mask will retrieve your donated items and leave a donation form in your trunk for you to complete and return via email in order to obtain a donation receipt.
Tucson Area Donations of Masks, Medical Supplies and PPE
Banner Home Health office
575 E. River Road
Tucson, AZ 85704
DROP-OFF DONATION HOURS: Mon-Fri, 10am-2pm
Need Inspiration? Follow us on Social Media!
Inspiration Our Projects
---
Thinking of giving your home or old furniture a facelift? Browse through some of our finished projects for inspiration!
Shipping Fabrics For Your Next Project, While You Stay Home
---
Support a LOCAL company for your next project. It's advisable at this time to adhere to social distancing and stay at home, but if you have a project in mind and you need fabric to accomplish it, then you can count on Fabrics That Go.
Choose from a wide range of Southwestern designs, along with other styles, for upholstery, drapery, pillows, tablecloths and more. Shop Online at shop.fabricsthatgo.com and have your materials delivered.
Local Pickup & Delivery Available
---
If you have a project in mind that you cannot do yourself, our team is still available to get the job done. Get a FREE Quote on your upholstery or drapery projects (Local Pickup & Delivery Available). Get a FREE QUOTE today!
Get in Touch
---
If you have any questions about what materials & accessories you might need for your project, please contact us by filling out the following form.
Thank you so much for supporting a local, family owned business. Our team at Fabrics That Go appreciates your business during this trying time.

Get Home Fabric Project Inspiration, Tips, & Fabrics That Go Updates!
---
Fabrics That Go loves to connect with fabric lovers all over the world! Subscribe to receive bi-monthly emails that highlight new fabric collections, home project ideas, decorating tips, and more!
We take pride in being part of your journey in designing your home, turning your vision into reality. From upholstery to drapery, and everything in between- we bring you Happiness By The Yard.
Let's Get Started!
Ready to redesign your home?  Fabrics That Go has over 10,000 bolts of fabric IN-STOCK to choose from, and can do quality custom upholstery  and custom drapery based on your needs and specifications. Outside of Arizona? Order online NOW for fabric shipped directly to your door!
Fabrics That Go – Tucson, AZ
We are happy to be Tucson's #1 Local Fabric Supplier, and would love to help you with any of your custom drapery, bedding, upholstery projects. Please feel free to contact us with any questions, we'd love to hear from you!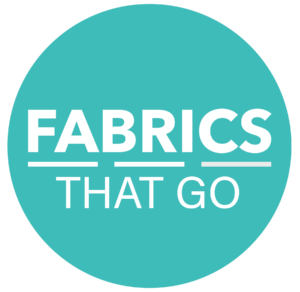 Do You Want to Learn How to Sew Custom Bedding, Drapery, & More?
If there is enough interest, Fabrics That Go is considering an adult sewing class where you can sew custom bed spreads, drapery, & more.
Please provide your information if you are interested in Adult Sewing Classes at Fabrics That Go.